Introduction
Google I/O 2014 introduced a new version of Android. Apart from the nice mobile UI design there are many other cool features I like. Google has a very cute tradition of naming each version after a dessert item starting with the subsequent letter of the alphabet. As a developer, I had a chance to check out the preview version and I wondered what the delicious name would end up being–lemondrop, lifesaver, or liquorice? We now know it as Lollipop!
Previous versions of Android

| | | | |
| --- | --- | --- | --- |
| Alpha (1.0) | Donut (1.6) | Gingerbread (2.3 – 2.3.7) | Jelly Bean (4.1 – 4.3.1) |
| Beta (1.1) | Eclaire (2.0 – 2.1) | Honeycomb (3.0 – 3.2.6) | KitKat (4.4 – 4.4.4) |
| Cupcake (1.5) | Froyo (2.2 – 2.2.3) | Ice Cream Sandwich (4.0 – 4.0.4) | Lollipop (5.0 on) |
Although I personally am not a mobile developer (I work primarily as a backend software developer) I am still extremely enthusiastic about mobile technology, especially for Android! Many of my colleagues are mobile app developers and we often talk about what constitutes good mobile design. Here are some of my favorite features being introduced in the new version. So what can Android geeks expect from this new release? Quite a lot actually. With over 5000 new developer APIs, Lollipop is easily the biggest release Android has seen. Let's take a closer look at some of these features….
[See Also: Swift Heralds a New Era for iOS Mobile App Developers]
1) Material Design: Beautiful and Fun
Mobile users love new UI features. Lollipop has a new interface look called Material Design, which was not a feature of Android 4.4 (Kitkat).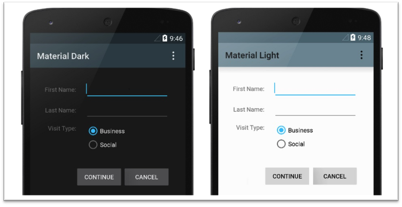 image sources: Material Dark, Material Light

Within the material interface two new widgets have been introduced for android developers. The first is a power-efficient RecyclerView widget which can be used for features like scrolling through contacts. It is basically an advanced version of ListView. It offers performance improvements with dynamic views and is easy to use. The second is a new CardView widget which has a Google Now inspired feel and also ensures that widgets run smoother. It does not clip intersecting views with rounded corners. Both look very nice!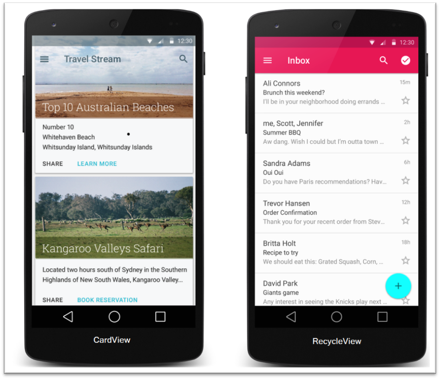 image sources: CardView, RecycleView
2) Better Notifications
Google has improved the way notifications are handled. For starters you can now get notifications on the lock screen which will be automatically ordered in priority. You can also swipe notifications away or double tap them to open an expanded view within the appropriate app. These notifications pop-up on top of whatever you are doing, so you are able to access information without having to open up the specific app every single time, or even pull down the notification bar to get updates.

image source: Notifications

3) New Avatars in Gmail
With Lollipop Google is also getting alot more playful and have injected a bunch of fun colors into Gmail. This makes the app look cleaner and more modern in contrast to KitKat. One example of the fresh style is how the square avatar pictured (below) has now become circular.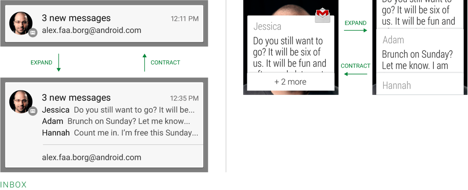 image source: Avatars
4) Lock Screen Notifications
You might have already used custom notifications through third party applications, but Lollipop now provides custom notifications by default. Each notification shows up as a little bar across the screen in high-contrast, making it look super clear. The user is able to choose what information will show up on the lock screen. In this case, the SystemUI considers the notification's visibility level to figure out what can safely be shown. You have a good amount of control over what apps are able to send notifications.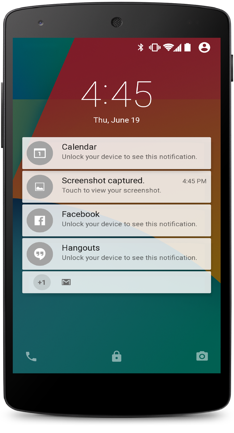 image source: Locked Screen Notifications

5) Multitasking in 3D
Another cool UI feature is how Lollipop shows recently viewed apps. They are now displayed as a 3D cascade of tiles rather than a simple 2D view.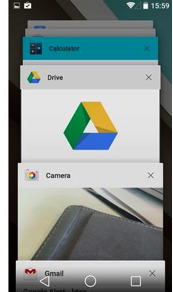 image source: Multitasking

6) Application Link for Google Search
Google Search now provides links to apps from direclty within web searches. You will be able to head directly to a specific part of an app right from the Chrome browser on your phone. This is an example of the "deep linking" innovations we see occuring within iOS apps as well.
[See Also: The Historic Introduction of Swift for App Developers]
7) 64-bit CPU support
One of the highlighted features is support for 64-bit CPUs. Lollipop can support 64-bit processors and the ART software library, which Google claims will be twice as fast as Dalvik.
8) Android TV
While Android TV may not be a core part of development, it is still a crucial part of the Android universe. It offers a rich user experience, and is optimized for apps running on large screened devices, such as high-definition televisions. These types of television-focused apps present new ways to entertain users from the comfort of their living room couch.
9) Authentication through Smartwatch
One of the funkiest (if you will permit me to use that word) additions to Lollipop is a new way to bring your phone out of standby securely. Android Wear watches can now be used as authentication tools, replacing the standard password method.
10) Optimizing Battery Efficiency
One of the most useful features is Lollipop's Battery Saver mode. By trimming secondary functions, this mode dramatically boosts the amount of time the remaining juice in a phone can be used. This can be an absolute lifesaver for unfortunate users caught unawares with low battery and no plugpoint in sight. Even the lock screen tells user how long the phone will take to charge while plugged-in to a charger.
11) Bluetooth 4.1 Support
All the major phones have Bluetooth 4.0 these days, so how does 4.1 make difference? Bluetooth 4.1 is cool because it does not clash with 4G signal the way 4.0 does. It also gives manufacturers much more control over the timeout times of the connection. Bluetooth 4.1 also improves connectivity, making it easier to communicate with other devices.
12) Android Auto
One really futuristic feature in Lollipop is Android Auto. This new mode of operation allows you to jump into your car and share your Android Auto screen onto the screen of your car's GPS or dashboard. Rather than plugging it in to 3rd party connectors, you will now be able to view your information cards in a simple, organized manner for the road ahead.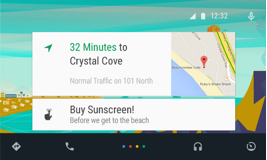 Image source: Auto
Why Mobile Enterprise should care about Lollipop
All of this sounds great for consumers, but as a mobile application development company we often deal with enterprise clients. So why should enterprises care about Lollipop? Some of the reasons are that Google is adding support to introduce security patches via Google Play. For office use Google is also making it simpler to define organizational device owners and task locking. Thre is also the ability to run scheduled jobs, along with other useful API connectors. Other security features include built-in security containers, managed provisioning, password-protected factory reset.
Now that Lollypop has finally been released, I hope users enjoy the new features as much as I did when reviewing the developer preview version.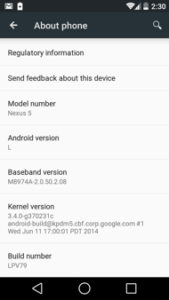 Everything you need to know about outsourcing technology development
Access a special Introduction Package with everything you want to know about outsourcing your technology development. How should you evaluate a partner? What components of your solution that are suitable to be handed off to a partner? These answers and more below.