Business Value
Zymr developed a CloudTech unified management and orchestration solution for Cisco's cloud infrastructure, thus accelerating the adoption of their new UCS datacenter mangement and orchestration CloudTech products among Fortune 50 early-adopter customers.
Solution Map
Verticals

CloudTech

HealthTech

FinTech

RetailTech

SocialTech

ShareTech

Domains

Applications

Security

Infrastructure

Orchestration

Mobility

Analytics/AI

Practices

Development

Cloud Operations

Quality Engineering

Continuous Integration

Continuous Delivery

UX / UI
System Architecture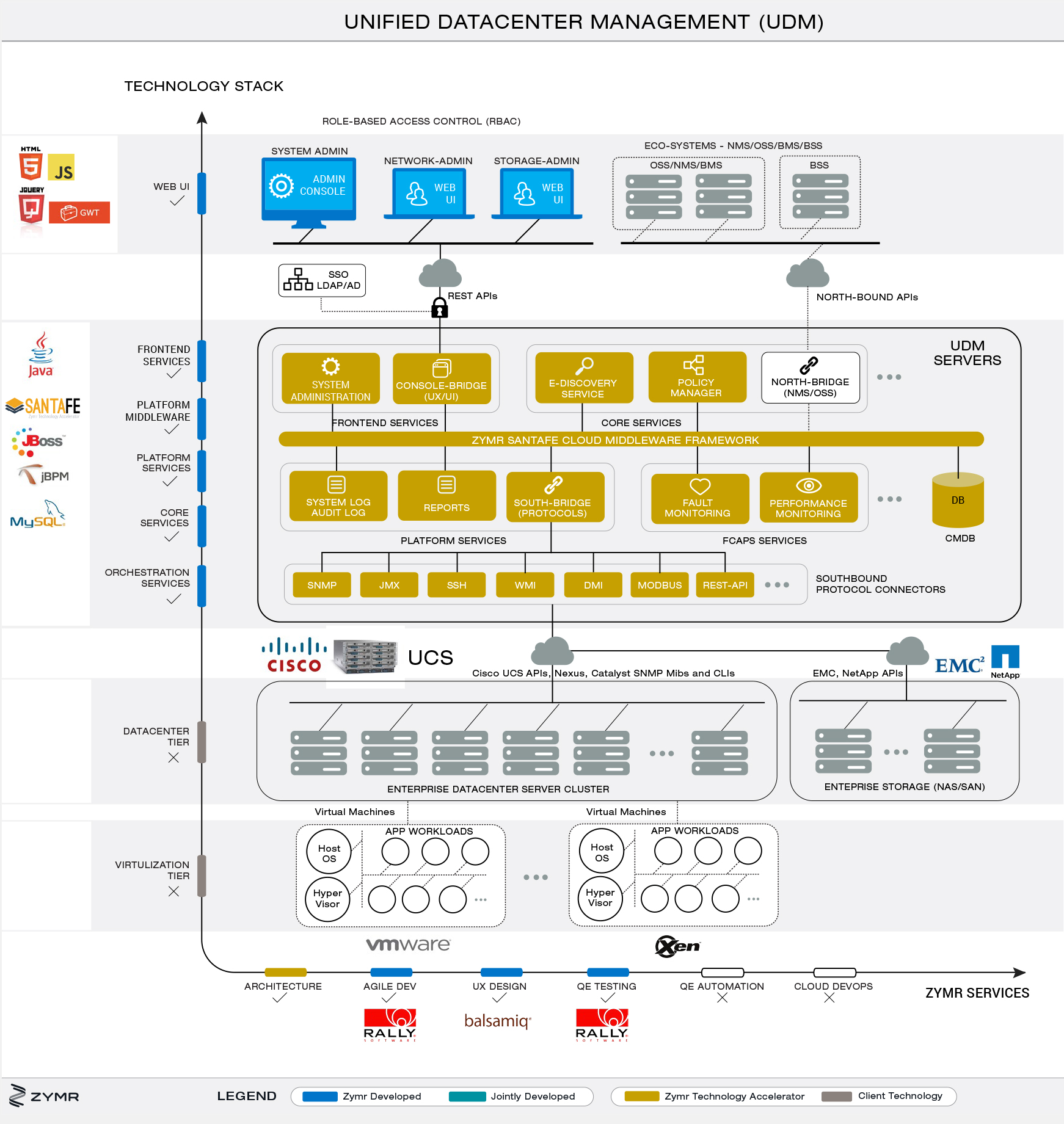 Software Implementation
Zymr implemented Cisco's Datacenter Manager by leveraging its proprietary, pre-built, SantaFe cloud framework (see System Architecture diagram for details).

Zymr developed key microservices, a CMDB database and snaps to connect to various datacenter systems including Cisco UCS, VMware and others. Features implemented included CMDB ontology, Auto-discovery of IT, non-IT, VMs and application workloads, FCAPS, Policy Management, RBAC, logging and reporting.

Working with our in-house UX design studio, we built a modern and responsive enterprise UI for Cisco's Datacenter Manager using JavaScript frameworks. UI features included customizable dashboards, Rack View, Front-Panel view for Cisco UCS, geolocation maps, drag-and-drop policy designers, reporting and administrative features.

Success
Zymr followed all of Cisco's requirements, and built a comprehensive Datacenter Manager to supplement Cisco's own UCS Manager. The Datacenter Manager was well received by Cisco, and was showcased to Cisco's top tier enterprise clients as a value-added software product.
Implementation ToolBox
Frontend

HTML
JavaScript
jQuery
GWT

Backend

Java
MySQL DB
Jboss
jBPM
SantaFe

Resource

Cisco
NetApp
EMC
VMware
APC
Process

Rally
Jenkins
Maven
Balsamiq
Adobe CC