Software Testing & Quality Engineering Services for Rapid Cloud Deployment
Software Quality Engineering (QE) at Zymr extends beyond Quality Assurance (QA) to exploit opportunities in engineering quality from the get-go. Zymr's QE team is engaged from the inception of every project, starting with the architecture and design work. The QE team continues to work with developers during unit testing, and helps define comprehensive test plans for end-to-end system testing. During the automation phase of the testing cycle, QE engineers bring in integrated Continuous Integration and Continuous Delivery (CI/CD) to reduce regression and ensure each brick of the solution is high-quality at the end of every sprint.  The Zymr software quality engineering practice leverages cloud testing to deliver high quality software testing services. Zymr's QE practice also emphasizes the use of hardened open source frameworks for QE Automation, wherever possible, in providing software testing services. A particular strength of Zymr's services is to perform testing of software implementations, manual and automated, in cloud environments.
Our Quality Engineering Practice
Featured Resource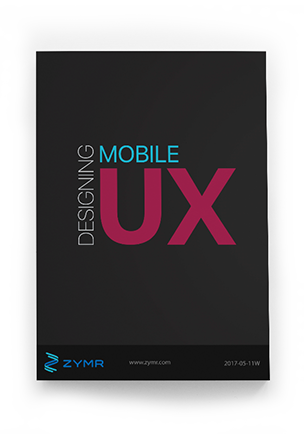 Designing Mobile UX
There is a major shift towards a 'mobile-first' approach while developing software products and services across industries today. While the deluge of mobile device/OS combinations available in the market has resulted in improved access to information and computing resources for users, it has also led to new challenges for developers building applications for the mobile ecosystem. Identifying quality objectives, and minimizing risks right from the early stages of the development lifecycle, is as important as performing thorough UX-focused testing for building apps that see high user adoption.
This guide provides an overview of several considerations for mobile app testing, along with blueprints for creating an optimal testing strategy for various types of mobile apps, risk mitigation plans, and streamlined Quality Engineering checklists. It also includes brief case studies that show how Zymr's Quality Engineering services can be leveraged to comprehensively test mobile apps.