Business Value
Zymr built a secure HealthTech service orchestration solution for the client, enabling the integration of the client's behavioral health application with EHR systems of major Health Deliver Organizations in North America.
Solution Map
Verticals

CloudTech

HealthTech

FinTech

RetailTech

SocialTech

ShareTech

Domains

Applications

Security

Infrastructure

Orchestration

Mobility

Analytics/AI

Practices

Development

Cloud Operations

Quality Engineering

Continuous Integration

Continuous Delivery

UX / UI
System Architecture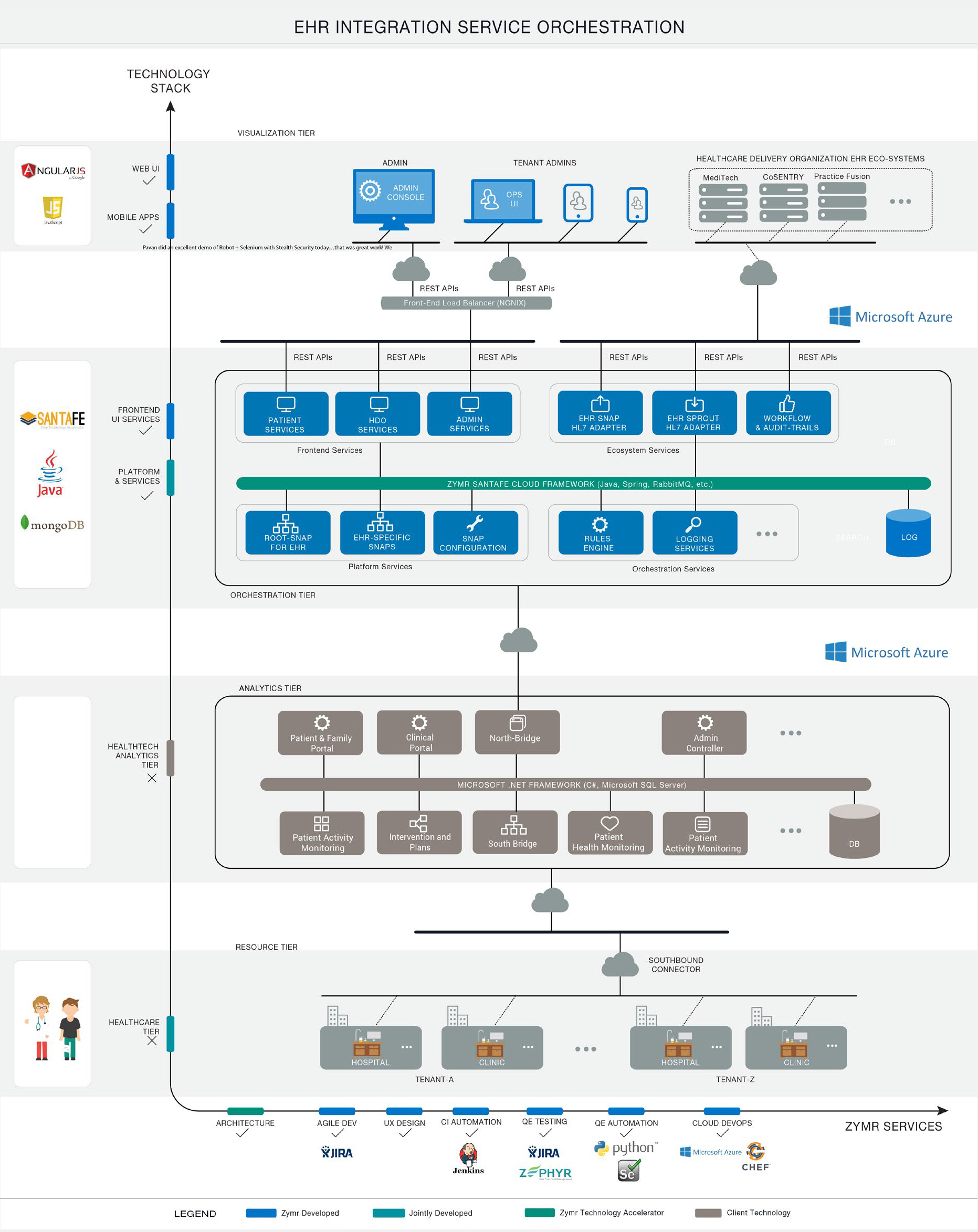 Success
Zymr developed a smarter service orchestration solution that comprised rules-based EHR integration snaps to facilitate rapid EHR integration. The client's service orchestration solution was built using microservices architecture and HL7/ FHIR-HL7 compliant rules-based snaps.
The core systems of the client's solution evolved independently from the service orchestration solution Zymr built, as these were loosely-coupled with each other. Zymr developed all components of the service orchestration in Java. Our QE team performed end-to-end system testing with the root EHR snap, and a simulated EHR, before real-world integration. This pre-testing of root EHR snap enabled smoother and faster client-specific EHR integrations. Our DevOps team helped ensure a Microsoft Azure-based cloud deployment with full HA to enable 24×7 and secure full-duplex interchange of data between the client's solution and the HDO's EHR system.
Implementation ToolBox
Frontend

HTML5
Angular.js
jQuery
Sass-css
D3.js

Backend

Java
MongoDB
Spring
RabbitMQ
SantaFe

Resource

HL7
FHIR
Meditech-EHR
CoCENTRIX-EHR
Epic-EHR
Process

Jira
Jenkins
Zephyr
Puppet
Balsamiq