Cloud-Native vs. Cloud-Migration
New entrants with pure-play, such as Silicon Valley startups, are experts at "cloud-first" model from inception. They create or leverage open-source cloud technologies to create unique customer experiences through their solutions. Their advantage is that they have no legacy to bridge in embracing the cloud. However, incumbent enterprises have many unique challenges when undertaking digital transformation. Some of these include the gap in cloud technologies, stretched IT budgets, regulatory and compliance regiments, fear of alienating current users, and discontinuity in revenue.
Seasoned in Silicon Valley
Our strength is in our varied experiences with clients in various stages of their cloud journey. We do not claim to know-it-all but are experts in a valuable subset of open-source and .Net technologies based on our significant engagement with Silicon Valley startups. We do have the aptitude and the attitude to take on new technologies very easily.
Five-Stage of Cloud Engagement
Our cloud engagement falls within the spectrum of the following five stages of digital transformation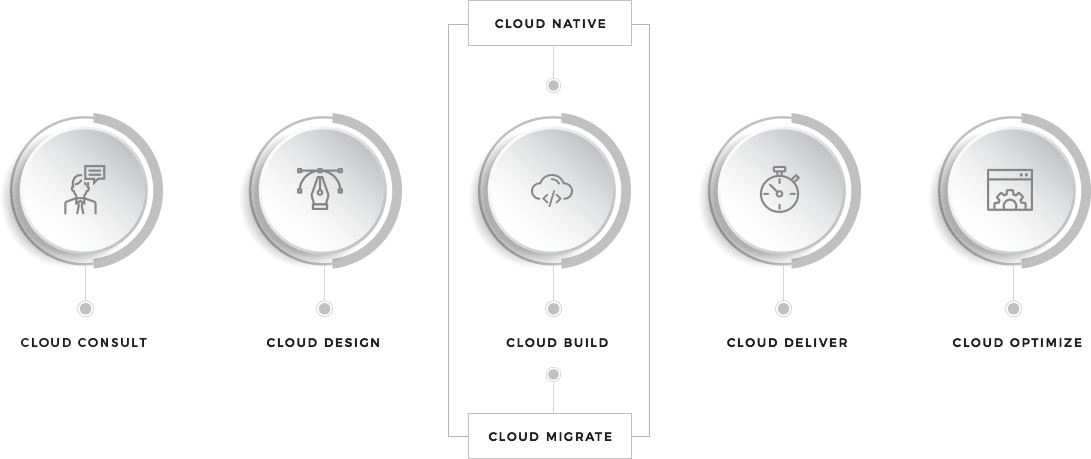 Cloud Consult

Sorting out industry-specific, business, product and privacy goals into a cohesive and prioritized product engineering roadmap is challenging with fast-evolving open-source technologies.

Zymr senior leadership brings business-savvy and entrepreneurial experience to review cloud strategy and how to architect products to meet your business objectives. We help our clients in following ways:

Refining cloud strategy for given domain and industry
Grooming backlog of product ideas into vertically sliced epics and user-stories
Evaluating cloud platforms and multi-cloud strategy – AWS, Azure or GCE
Meeting security and regulatory standards – PCI, HIPAA, or GDPR
Evaluating budgets for cloud operations
Advising on mobile strategy and how to maximize ROI on investments

Silicon Valley CloudTech SDN startup on evaluating cloud frameworks
Silicon Valley CloudTech security startup on Analytics Tier design
European tier-1 Telecom operator on grooming requirements into epics and user-stories
European ShareTech startup on commerce and security compliance
Canadian HealthTech startup on strategies to integrate with EHR systems
New York HealthTech IoT startup on use of Azure cloud services

Cloud Design

The choices of specific technologies in product development without sufficient the analysis of business use-cases is putting the cart before the horse resulting in ill-fitting components and poor cloud-ready designs.

Zymr initiates the cloud design phase based on the business context shared by our client. We assist our clients in the following ways:

Analyzing the use-cases into coherent cloud product requirements
Defining or refine domain-specific ontology
Designing modern canonical cloud architecture
Selecting of technology stacks, API strategy, database, etc.
Evaluating cutting-edge open-source processes
Designing integrated CI/CD and test automation processes

Silicon Valley CloudTech SDN startup on designing multi-tier server architecture
European CloudTech startup on designing security REST-APIs using security tokens
Silicon Valley CloudTech cybersecurity company on designing SEIM integration using the ELK stack
Silicon Valley CloudTech Wi-Fi startup on ontology-driven full-stack platform design of multi-tenancy service orchestration
Silicon Valley CloudTech network security company on implementing Docker-based of CI/CD pipeline for multi-cloud delivery
European RetailTech company on designing responsive Web and Mobile UX

Cloud Build - Native

Building cloud-native products provide velocity and agility to our clients. However, the cloud is no longer straightforward given competing forces from public and private vendors. Excessive use of public cloud services (say from AWS, Azure or Google) create vendor-lock and prevent on-premise private cloud deployments.

Zymr has built several cloud-native XaaS solutions that maximize degrees of freedom for the client to adapt the solution for public cloud, private enterprise cloud or hybrid multi-cloud environments. We assist our client in the following ways:

Developing full-stack product using microservices and containerization
Developing using TDD/DDD methodology
Developing UX-design driven responsive UI
Developing well designed RESTful APIs ('eco-sprouts') and API governance
Developing security architecture – user access, data security, etc.
Developing ecosystem connectors ('eco-snaps') to external services

Silicon Valley CloudTech Datacenter startup on use of Kafka and Apache Storm based analytics tier
New York HealthTech IoT startup on developing Azure based IoT services
Singapore SocialTech Mobile app startup on massive scalability using AWS
Silicon Valley CloudTech Database Encryption startup on security Cassandra DBs
Silicon Valley RetailTech giant on use of MERN stack for UI
Silicon Valley FinTech startup on full-stack PHP/Heroku Web and Mobile solution

Cloud Build - Migrate

Migration of legacy apps to the cloud can be a challenging experience, especially when they are mission-critical apps. Besides virtualization of the workload, is the migrated application going to meet user expectations and corporate governance standards?

Zymr has helped our enterprise customers in cloud migration using the following steps:

Analyzing the portfolio of legacy app migration to cloud using the six 'R' of cloud migration

Rehosting – move it to different cloud
Replatforming – migrate app to a new platform
Repurchase – substitute the legacy app with a cloud-ready app
Retire – phase out the app
Retain – leave the app alone in legacy environment
Refactor – develop missing features

Refactoring mission-critical apps using the following steps:

Analysis of users and current usage
Analysis of current user-experience to see if UI needs to be enhanced
Analysis of missing features
Analysis, and missing integrations

Partitioning legacy app to sustain its stable parts
Enhancing legacy app with new RESTful APIs (we call them 'eco-sprouts')
Integrating legacy app with necessary ecosystem using connectors (we call them 'eco-snaps')
Delivering better user-experience by upgrading to new responsive UI

Canadian HealthTech startup on refactored its HealthTech app for multi-tenancy and migrating it from on-premise to Azure cloud
Silicon Valley CloudTech datacenter giant on migrating embedded orchestration app to AWS cloud
Silicon Valley CloudTech network security company on developing AWS based Enterprise Dashboard over iPad
Silicon Valley CloudTech database security startup on migrating data from plain Cassandra cluster to encrypted Cassandra cluster
Singapore SocialTech startup on refactoring legacy mobile app and migrating app from private cloud to AWS

Cloud Deliver

After the first rollout of cloud-ready product, challenges come in improving the application incrementally. How to develop a continuous delivery engine to avoid outages or need to roll back is a massive challenge if has not been architected from inception.

Zymr employs agile delivery factory approach to right-size build and integration of software products, and automate unit testing, API testing, UI testing, static code analysis, performance and stress testing. We assist our clients in the following ways:

Leveraging container-based delivery, such as Docker, when appropriate.
Leveraging multi-cloud delivery options to avoid vendor-lock.
Implementing continuous test and CI/CD processes
Developing DevOps, SecOps and CloudOps processes
Implementing deployments on AWS, Azure, GCE, VMware, OpenStack or bare-metal
Implementing auto-scaling, high-availability, and backup/recovery processes

Silicon Valley CloudTech Wi-Fi startup, designed and implemented an automated CI/CD pipeline using Jenkins, Puppet, and Python for their NaaS offerings
Silicon Valley CloudTech network security startup, implemented DevOps using Docker-Swarm and Kubernetes based CD for their Apache Spark, Cassandra and ElasticSearch analytics
European RetailTech IoT startup, implemented a CI/CD environment for Azure delivery.
Canadian HealthTech startup, implemented an Azure HDInsight analytics pipeline for their Behavioral Health App
Silicon Valley CloudTech Wi-Fi startup, implemented DevOps using Chef, Puppet, Python and PowerShell for multi-cloud delivery.
Silicon Valley CloudTech database security startup, implemented Chef based AWS and Azure delivery of Encryption-as-a-Service apps.

Cloud Operate

Challenges come when new cloud products are rolled out to ensure their uptime and responsiveness. Often, sparse instrumentation of code during development thwarts continuous cloud monitoring and optimization. When there are interruptions to XaaS, a panic sets in to fix these problems in a hurry.

Zymr has experience in building and testing resiliency from early stages of cloud development. Our CloudOps team use intrinsic and extrinsic monitoring services, analyze logs, script auto-healing to minimize downtime. We help our clients in the following ways:

Monitoring cloud apps for availability
Monitoring cloud apps for performance and response time
Monitoring cloud security and escalate security incidences using SecOps processes
Auditing for cloud app compliance, as required, such as HIPAA, PCI, GDPR, etc.
Performing drills for automated cloud app recovery
Performing proper data management workflows for periodic or real-time backup

For Silicon Valley CloudTech data security company, appointed agents to provide CloudOps support with coverage of 7 days x 10 hours from India
For Singapore SocialTech mobile app startup, optimized cost of hosting on AWS
For Silicon Valley SocialTech startup, performed InfoSec OWASP testing to ensure HIPAA, PCI and GDPR readiness
For Silicon Valley CloudTech network security company, provided agents to manage SecOps and incident management using ZenDesk
For Silicon Valley SocialTech startup, provided 24×7 monitoring of cloud app hosted on AWS
For Silicon Valley CloudTech FinTech startup, provided support for data management using backup/restore procedure on AWS