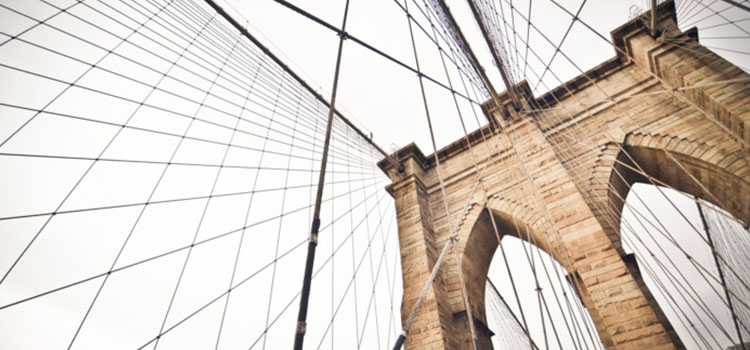 The discipline of Google's Material Design and the user experience (UX) on the web speak the same language. That makes sense because Google created the visual style of material design to do exactly that, give the user a positive experience by setting a foundation on which to inspire creativity and empower the UX designer to think beyond the limits of their own mind.
The idea of Material Design is still relatively new and as such is evolving. You might think of it as a marketing technology but it really isn't. So, looking for it on the venerable Gartner Hype Cycle for Innovation would look something like this, an empty slate. That's because it's a best practice and methodology the serves a the foundation for many products and services. It is a foundation for how to engage and amaze the customer. It's the language of UX and UI. If I had to give it a place on the chart below, the red arrow puts it where I think makes sense. It's a best practice and methodology that's on the rise and influencing UX and UI design in a very real way which in turn spawns new technologies to deliver the innovative cycle of cause and effect to keep technology fresh and pushing the limits of the human mind.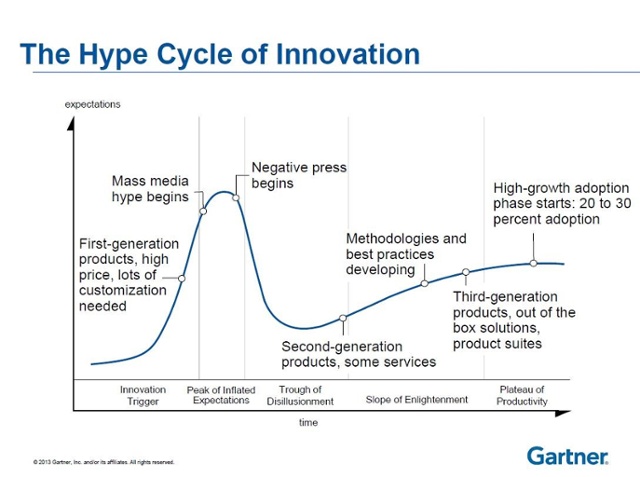 What's Changing in the World of UX and UI
I'm not going to try and boil the ocean in this article and cover every nuance of change that's out there for UX and UI. It's interesting to note that some technology influences UX while UX impacts other tools in your tech stack. It's a subtle nuance that's driven by what the customer wants and expects to see when they hit their first landing page. They encounter apps and widgets by the bucketful and pass judgment on their value to them. Insights are discovered through data analysis from technology such as site search which influences changes to the UX design. The UX design then reveals weaknesses in the site search app that affects the technology in creating a new site search app. This cause and effect relationship then engages an iterative process in making the customer experience better.
[See Also: Responsive vs Adaptive Design for UI]
The first thing to consider is the adoption rate of Material Design as an accepted best practice and method to accomplish UX and UI in the real world of online customer engagement. We must be on a shared platform so that we change exchange our views and talk about lessons learned in knowing what worked and what didn't work in our UX designs. Material design gives us a common frame of reference. I'd love to throw some numbers at you but we don't have any. So, we're going to have to look at circumstantial evidence.
Shutterstock gives us some insight into the global adoption of material design. In their article "Creative Trends 2016," they identify four visual design trends that are "on the rise." We'll talk about some of them a bit later on. However, more importantly, these visual trends are coming from countries around the world. Fourteen countries from Latin America, North America, Asia, Europe and Australia are in the mix. Adoption is global and "on the rise." When the developers start fielding new additions to the de facto standard that Google published back in 2014, we can assure ourselves that the adoption rate is spreading.
A quick inventory of what's on the agenda at UX/UI focused conferences around the world gives us another data point. These agendas have material design in the mainstream of important topics. When all the industry experts gathered in one place start talking about something, it signifies acceptance and drives others to adopt the practices.
Finally, when you see the Google standard published in different languages with working groups being established in various countries, it's a clear indicator of adoption. Latin America is just such a place where that has happened and is continuing to spread.
The challenge of change management rears its ugly head once more. In this case, the change in UX and UI design at the corporate level is one of the organizational affiliations and the dismantling of isolated silos of work that creatives have settled into over the years. It's now just as important for the creative to know the business end of things as it is for the product managers to know something about creative design. The line between marketing professionals and creative UX/UI designers is forever blurred in favor of inclusion of the UX/UI designer on the product development team. They now have a chair at the table and it has to be filled by someone that is a design expert but also able to talk the language of business. Little things like knowing what the ROI of your design efforts become critical to getting the budget you need to do the work. Ah, but change is hard. The future of UX is now, not tomorrow. Part of that future is adopting new relationships in addition to new ways such as material design.
[See Also: Web UI / UX Moving Toward SPA – Even Enterprise Web GUI]
UX and UI Clash in the Trenches
The business of UX and UI have their new faces as well. Creative is as creative does is what I'm used to hearing. But, the trends and material design best practices are providing some structure in those worlds now. UI is being driven by technology and the ever increasing capabilities of it. The evolution of user interfaces cab be summed up in three trending words:
<>li>Complexity – If you can do more with the technology, you will.
Diversity – The more marketing channels and choices you have, you will fill them.
Ubiquity – You strive to become everything to everyone.
UX, on the other hand, is driven by a different set of priorities:
Originality – Drive material design off the cookie cutter mentality of every website looking the same and make a triumphant return to thinking beyond what you see and infuse creativity back in the material design process.
Simplicity – The trend is toward single-purpose apps rather than multi-functional ones. Customer clarity and less confusion on the page is the goal. The evolution back to flat page designs also targets simplicity in its purpose.
Mobile Visual Comfort – The endless scrolling is coming to an end. This will drive changes in the discipline of responsive design. The customer wants a reduction in the page height on mobile. That will force UX design changes to deliver the message with less real estate.
Typography – Move away from annoying limitations of Comic Sans and Arial and take advantage of the recent release of Google Fonts.
A Final Word
I didn't have time to pursue this but along with the need to integrate UX design with marketing, UX needs to develop new analytic capabilities and technology such as usability testing. UX has been grandfathered thus far and not been asked to prove their worth. Now that they are mainstream and have a measurable effect on revenue and profit, they need to have answers to the business-based questions of how your work develops an ROI for the company.
The answer in your mind may be intuitive but the era of big data is here and the numbers are what impresses the CEO and CMO these days. UX will have to bite the bullet and develop the ability to make a strong business case to keep or bring the work in house and not have it outsourced or remain outsourced.
Everything you need to know about outsourcing technology development Access a special Introduction Package with everything you want to know about outsourcing your technology development. How should you evaluate a partner? What components of your solution that are suitable to be handed off to a partner? These answers and more below.
Source: zymr