Business Value
Zymr launched a comprehensive mobile eCommerce FinTech solution in Romania for Vodafone on a tight timeline, budget, and with 99.999% availability (only 5 mins downtime/year), performance and scalability.
Solution Map
Verticals

CloudTech

HealthTech

FinTech

RetailTech

SocialTech

ShareTech

Domains

Applications

Security

Infrastructure

Orchestration

Mobility

Analytics/AI

Practices

Development

Cloud Operations

Quality Engineering

Continuous Integration

Continuous Delivery

UX / UI
System Architecture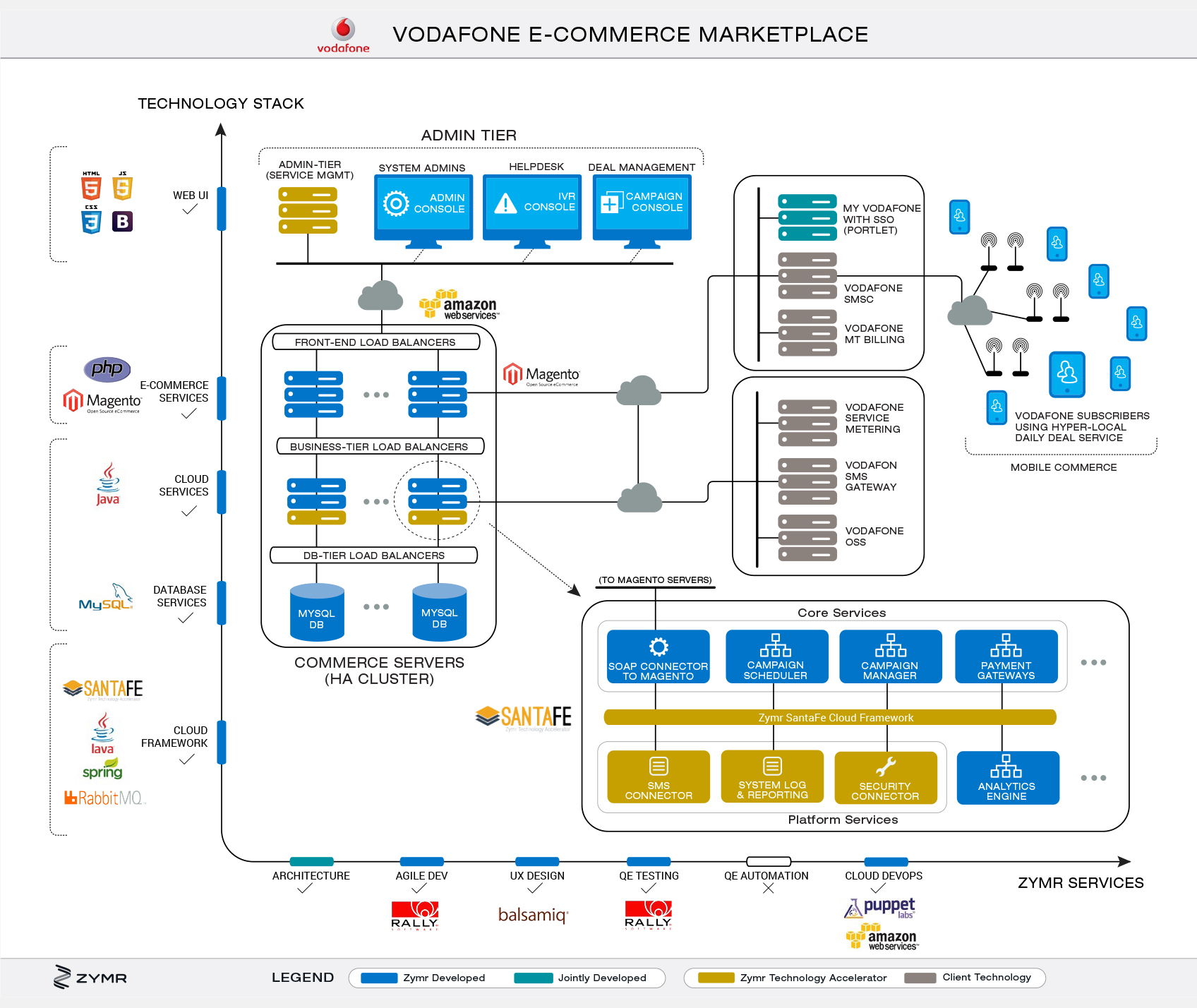 Success
Vodafone's My Vodafone eCommerce marketplace piloted this service in Romania with a planned roll out in Italy, Greece and other countries. Zymr delivered a high-quality platform in record time. Deployment on Amazon AWS was in two pilot phases, followed by a General Availability release. During the first 90 days of the rollout, over 150,000 subscribers registered on My Vodafone and actively transacted millions of Euros of commerce, for which Vodafone recruited a team of 100 registered merchants. Zymr was involved in 2 major upgrades and 4 maintenance releases over a period of nine months. Zymr's solution recorded a 99.95% uptime, meeting Vodafone's goals in this area. Vodafone assumed responsibility of this platform after one year.
Implementation ToolBox
Frontend

HTML
JavaScript
Bootstrap.js
iOS
Android

Backend

Magento
RabbitMQ
MySQL DB
Java

Resource

SMS
Vodafone
WebLogic
SMTP
PayPal
Process

Rally
Jenkins
Amazon AWS
Puppet
Balsamiq