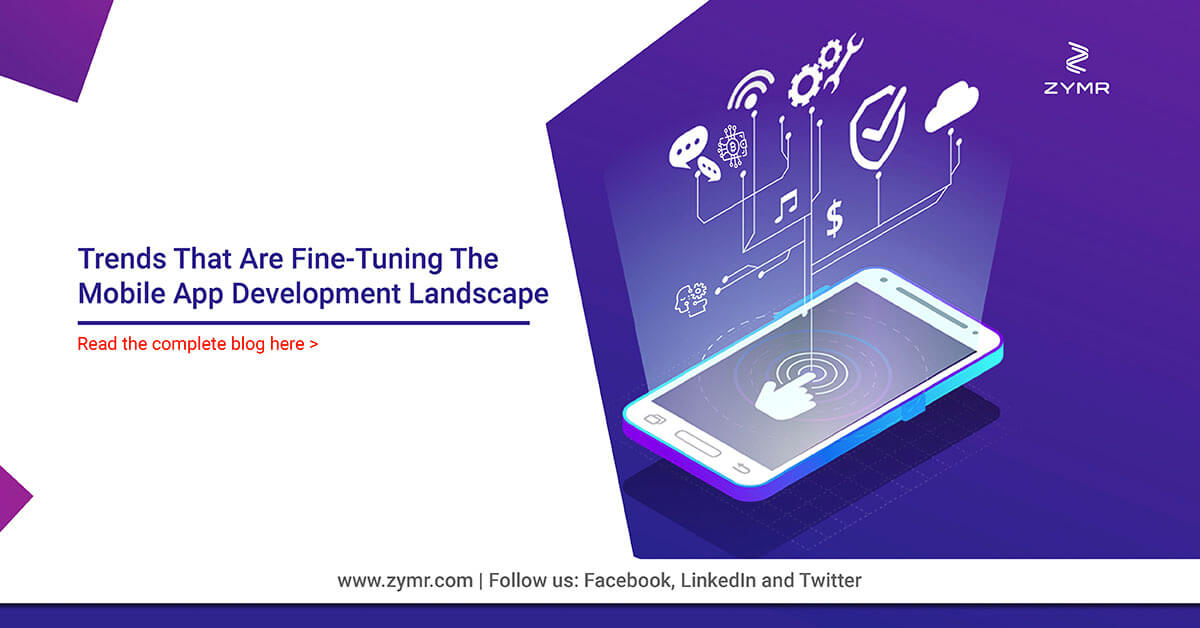 ___________________________________________________________________________________
In 2022, the number of mobile apps downloads worldwide will be surging high to a figure of 258.2 billion. If we talk about 2019, the worldwide mobile app revenue is staggering 462 billion USD. Outset of mobile apps have transformed our lives to an unimaginable extent. Mobile app development is already one of the fastest-growing industries and is yet to witness a lot of technological trends happening around.
___________________________________________________________________________________
This decade has witnessed many disruptive changes in mobile apps. The appreneurs are making sure that their apps stand out from the millions of others already existing in the market.
Latest Mobile App Development Trends to Look For in 2019:
A mobile app has to be both, i.e., futuristic and feature-rich. Wherein technological trends play a critical role in transforming the mobile app development industry. These technologies have a vast potential in sculpting the overall industry by streamlining processes and subduing the challenges.
Mobile App Development Trend: Artificial Intelligence and Machine Learning.
Artificial intelligence is a deep-founded technology in the arena of mobile app development. AI helps in offering contextual content to the users. After collaborating with machine learning, the duo is nothing less than a powerful digital weapon. Be it face detection, image and voice recognition, app authentication, landmark detection to AI chatbots, AI has got it all. AI ensures accuracy, efficiency, and fetches real-time data by strengthening security. AI makes a smartphone smarter. A few prominent examples are Cortana, Hound, Elsa, and Google Allo.
Mobile App Development Trend: Chatbots.
Chatbots have managed to make their way in every industry by streamlining communication, enhancing reachability, and facilitating real-time interactions. Mobile app development is no exception to this. Around 80% of businesses will use chatbots by 2020, as embedding a chatbot with an app ensures customer engagement, which is a vital aspect of business success. Chatbots can be integrated either as an app, in a tab or as a conversational user interface. These virtual assistants attempt to make sure that the customers aren't facing any hardships while using the app or aren't abandoning the app halfway. They are also expected to replace mobile apps in the future.
Mobile App Development Trend: Augmented and Virtual Reality.
AR and VR have a significant impact on mobile apps. They are all set for introducing a new era of disruption after getting digitally involved with AI. Their essence lies in providing an unbeatable virtual experience to make customer interactions more interactive and improve user engagement. Automotive, retail, education, healthcare, architecture, tourism, aerospace, real estate, and manufacturing industries are brimming with AR and VR technologies.
Mobile App Development Trend: Internet of Things.
Smart things, smart areas, or smart objects are often used synonymously with the internet of things. IoT, with its seamless connection of devices, accesses the flow of critical data to make real-time decisions. In a mobile app, IoT enhances efficiency, provides an outstanding UX, makes them interactive, helps in customization, and is cost-effective. IoT is all set to bring sweeping changes in traditional mobile app development practices. Open source development, development of hybrid apps, the emergence of integrated IoT platforms are few of the factors which indicate how IoT can be the future of mobile app development.
Mobile App Development Trend: Cloud Computing.
As blockchain is known for security, similarly cloud platform is known for its storage capabilities and scalability. Cloud computing has revolutionized the realm of app development. The technology has offered ease of functioning, integrated solutions, scalability, safety, cost-effectiveness, and unmatched speed. With cloud computing, user-friendly mobile apps are developed, which provide an outstanding user experience.
ALSO READ: Top Six Cloud Security Trends
Mobile App Development Trend: Blockchain Technology.
Blockchain is known for ensuring safety and security and injecting confidentiality in the transactions. Mobile app developers are tapping untapped opportunities. Combining blockchain with mobile apps can offer numerous benefits. Distributed database run via networked computers. They can set up coordination by transferring the message. The message can be coded between instances of the app, or it can use shared memory. The use of blockchain is handy for mobile app developers.
Mobile App Development Trend: Beacon Technology.
The deployment of Beacon technology will get more relevance in the mobile app development industry in 2019. It can alert an app when a person has moved from the assigned location. B2B, e-commerce, retail, entertainment, finance, health, hospitality, real estate, information technology — every industry can be benefited with beacon technology. Users can access information more seamlessly with Beacon technology-enabled mobile apps. It is one of the latest happenings in location technology and location-based info.
Mobile App Development Trend: Mobile Payment.
Mobile payments offer convenience, comfort, and security at a robust speed. Payment gateways in 2019 are drastically evolving like never before. The flare of digital services has ignited the need for a secure payment mechanism by assuring safety. Also, banking platforms and mobile wallets play a crucial role in redefining the scope of payments. Some of the most preferred payment apps are PayPal, Square Cash, Venmo, and Zelle.
Mobile App Development Trend: Application Security.
With an increase in mobility and mobile apps, it makes sense why cybercriminals are on a terrorizing spree by targeting mobile apps. Cybercrimes can damage $6 trillion by 2021. Malware and manipulation of confidential data can not only cost a company financially, but it can also put its image at stake. Data leakage, social engineering, Wi-Fi interference, and crypto-jacking attacks are some of the latest mobile security threats for 2019.
2019 and beyond…a quest for techruption
In this fast-paced digital world, there is no place for laggards. If you are unable to keep up the pace with these ever-evolving trends and industry 4.0 technologies, you will soon become obsolete. Aligning with the market trends can help you stay in good shape to suffice the needs of your customers, give you an edge over your competitors, and assists you in becoming lucrative in the marketplace.
Application Performance Management, Enterprise Mobile Management, Accelerated Mobile Payments, Wearable Apps, Quantum Computing, DevOps, Cognitive Development, Robotic Process Automation, Edge Computing are all set to take the mobile app development industry to a whole new level.
Take users by storm with our premier mobile application development services!
Zymr can help you accelerate your business growth with our end-to-end mobile application development for your corporate and consumer-facing environment. Our wide array of services begin right from ideation, UX-UI design, app development, QA, testing and continuous delivery, and ends with an app launch. Contact our team today at hello@zymr.com.