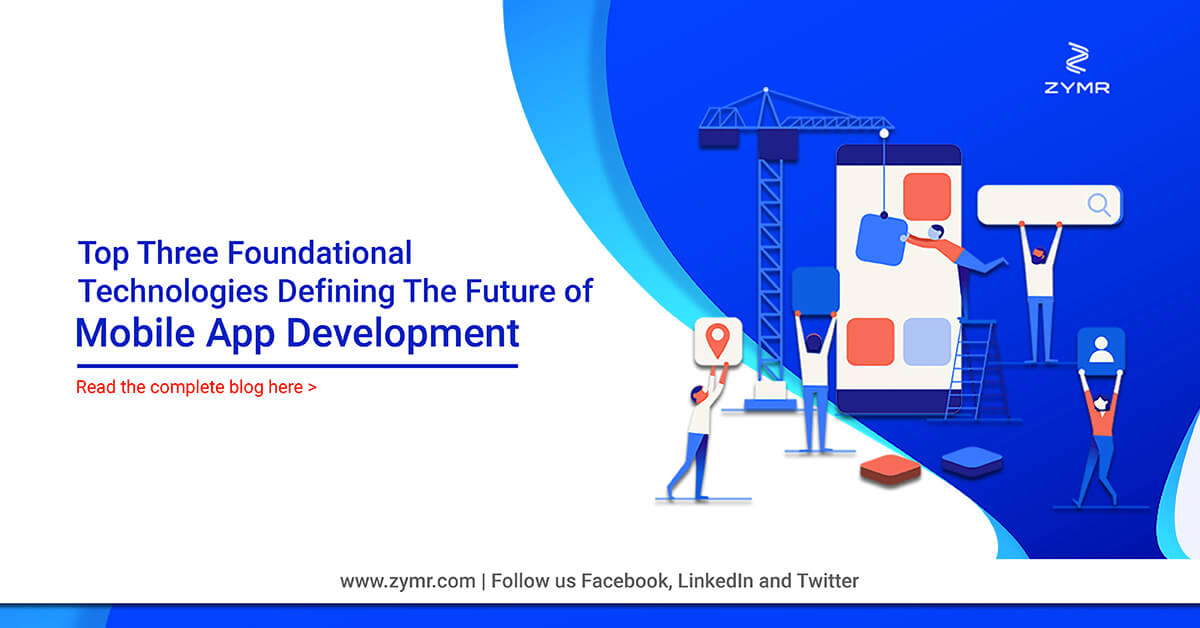 __________________________________________________________________________________
The emerging popularity of smartphones is quite evident to all of us. Enterprise mobility is nothing but the inclination of enterprises towards mobile phones, wireless networks, and mobile computing services to make things easier and a little less complex. Injecting mobility technology can boost the productivity level, flexibility, and agility in the business workflow. Let's take a look at the top three foundational technologies in mobility.
__________________________________________________________________________________
Statista predicted the number of smartphone users worldwide will cross 2.5 billion in 2019. The proliferation of mobile phones has played an impeccable role in making the approach of enterprise mobility more lucrative. Smartphones and tablets are becoming extremely important in an enterprise in order to facilitate collaboration, accessibility, and productivity. 
Gartner has suggested top 10 technologies which are responsible for shaping the future of mobility. It also expects that 80% of organizations will use 8 out of these 10 technologies by 2020. These technologies are basically categorized into foundational, incremental and transformational. 
With the rise in mobile technology, infrastructure and operations leaders (I&O) have started laying greater emphasis on its impact on the organizations. Our key focus in this blog will be solely on 'Foundational technologies in mobility'. 
3 Foundational Technologies in Enterprise Mobility Suggested by Gartner. 
Mobile Security.
Security is one of the most important prerequisites in mobility. Attack vectors are rising at a tremendous pace, which put both the device and network security at risk. Mobile threat defense tools, Unified Endpoint Management (UEM), and application shielding are the widely used solutions which can assure mobile security. Organizations also rely upon Data Loss Prevention (DLP) software to restrain the end users to send critical information outside the corporate network.
Enterprise Mobility Management (EMM) prevents unauthorized access to enterprise's applications and data stored in mobile phones. EMM keenly focuses on strengthening device and network security. It facilitates the use of mobile devices and applications at the workplace in the most optimal way. Therefore, it makes employees more productive by making them adhere to the control regulations and policies of 'how and where' the applications and devices are being used.
EMM includes Mobile Device Management (MDM), Mobile Application Management (MAM), password protection, identity management, categorizing of apps into whitelist or blacklist apps, etc. Risk factors are identified and eliminated through the mobile threat defense system. Enterprises are using Unified Endpoint Management (UEM) approach in order to safeguard mobile devices with a single console. UEM allows Information Technology to remotely control, and secure desktops, IoT devices, and mobile phones. 
(Also read more about the latest trends in Mobility Top 5 Mobility Trends of 2020)
Mobile Application Development Tools.
Mobile users are expected to download around 258.2 billion mobile apps by 2022. Mobile apps play a dominant role in this mobile-centric era, thereby in mobility. The increasing prominence of apps thus making the role of app development tools and platforms crucial. Mobile Application Development Platform (MADP) is widely used to build an outstanding enterprise mobility system. MADP offers benefits like quicker development, better UX, and is cost-effective. 
Another such mechanism is RMAD. With Rapid Mobile Application Development (RMAD), you can build a mobile app even when you are equipped with less technological know-how. RMAD aids in accelerating the speed of software development, and delivery of apps. It also facilitates development with fewer codes. Therefore it is getting the attention of developers as it can be used in place of MADP. While this tool is widely prevalent for its feature called 'less coding', it doesn't provide functionality similar to those native apps which are built through MADP. 
Developers have started adopting Multi-experience Development Platform (MXDP) to enhance the ultimate user experience. It fastens the time-to-market for mobile apps and provides a better hold on the actual deployment. MXDPs are the new MADPs as per Gartner. In mobility, companies can either designed applications in-house or via outsourcing. Moreover, various parameters like features, functionalities, permissions, etc. should be kept under consideration while designing the apps. 
(Also read more on Flutter, Experience App Development Like Never Before with Flutter)
Location Based Services (LBS).
Location-based service is a software application for an IP-capable mobile device, which takes the geographical location of a device into account. LBS applications can be related to directions, emergency, directory assistance, tracking, local news, local advertisements, point of interest, etc. Due to the strong WiFi network, location-based technology is thriving today.
This type of service requires 5 basic components viz. the service provider's software app. The mobile network transfers data and requests for service. The content provider provides geo-specific information to the end user. The positioning component. And, the end user's mobile device. If executed correctly, Location-based awareness can definitely drive value in the organization.
For logistics and supply chain companies, LBS (through emails or messages) can help in route optimization, which leads to efficient deliveries. LBS can also assist in detecting fraudulent practices and assures transparency in the workplace. It requires a mobile device and is mostly used in the case of apps. With LBS, companies can identify the behavioral pattern of the customers and can target them accordingly.
In the context of mobility, the popularity of Bring Your Own Device (BYOD) at the workplace is increasing. The intent of enterprise mobility is to make the workflow processes more streamlined, the results more action-oriented, and the efforts more productive. 
How Zymr can help you in Providing Outstanding Enterprise Mobility Service Offering?
Unlock your app's potential and accelerate your business growth with our end-to-end application development services. Our outstanding app development services can help you to capitalize on the concepts of versatility and agility. 
From consultation, UI-UX designing, app development, software testing to maintenance and support, we are here for you. With our agile approach and highly experienced team, we are all set to make you fly high in the realm of enterprise mobility. 
Get a one-stop solution to all your enterprise mobility needs whether it is execution or expansion. Combat all the mobility challenges by partnering with Zymr.
Thinking about executing Mobility? Contact our team, we are just a click away!