Rise Of Community Driven Networks
With the rise in community driven networks and crowdsourcing initiatives, technology is providing answers to problems which were previously deemed complex at a social scale. Moreover, the proliferation of mobile devices and ubiquitous internet access has provided a medium for the masses to connect, collaborate and share information on the fly. From crowdfunding platforms like Kickstarter to professional networking services like LinkedIn, the social technology landscape holds tremendous potential for growth through improving communication and media consumption experiences across the globe.
Data-Driven Social Apps
Data is at the heart of any social application. For instance, as per an estimate by SocialPilot.co, on Linkedin: approximately 25 million profiles are viewed every day, users conduct around 1 billion searches daily, and 94% B2B organizations use the Company Pages feature for content marketing. In addition, various interactions in the form of likes, comments, and shares of business content (LinkedIn Pulse articles, status updates, Slideshare uploads etc.) occur at high-speeds and high-volume, all the time. From an advertising perspective, the platform also enables marketers to serve ads based on various user attributes. Accordingly, the increasing number of user roles and features increases the structural complexity and the amount of data exchanged over social apps.
Back-End Processing For Social Apps
Likewise, the back-end processing of social apps needs to be able to handle the incoming volume of data. Identifying the right technology stack while keeping in mind future requirements of scale is essential for the success of any social app. Therefore, organisations who want to venture into the social media space must opt for software solutions which are:-
Adaptable as per evolving user needs
Scalable to accommodate rapidly growing user bases
Interoperable with third party services
Intuitive in terms of user experience
Efficient in resource management
The Zymr Advantage
With a comprehensive understanding of advancements in cloud, mobile, big-data and IoT coupled with an agile development approach, Zymr partners with businesses aspiring to create a difference in the social media technology landscape. Zymr has significant experience in delivering scalable social media apps (web and mobile) for North American and European clients. Furthermore, Zymr's services in the SocialTech space are tailored for concepts such as personalization, hyper-localization, social commerce and content moderation. Zymr's expertise in various open source technology stacks, microservices-based architectures, UX and quality engineering practices, makes it the right choice for developing social applications that require the continuous delivery of new features and updates.
Our Domain Expertise
California based,​ ​ Zymr, Inc., believes in leveraging its significant technology domain expertise to build cutting-edge cloud technology solutions for IT, Social, HealthCare, and FinTech markets. Our software development services produce solutions customized to your exact requirements.
Our Technology Practices
Our agile technology and cloud consulting practitioners use full-stack and open-source development skills to deliver your concepts to the cloud.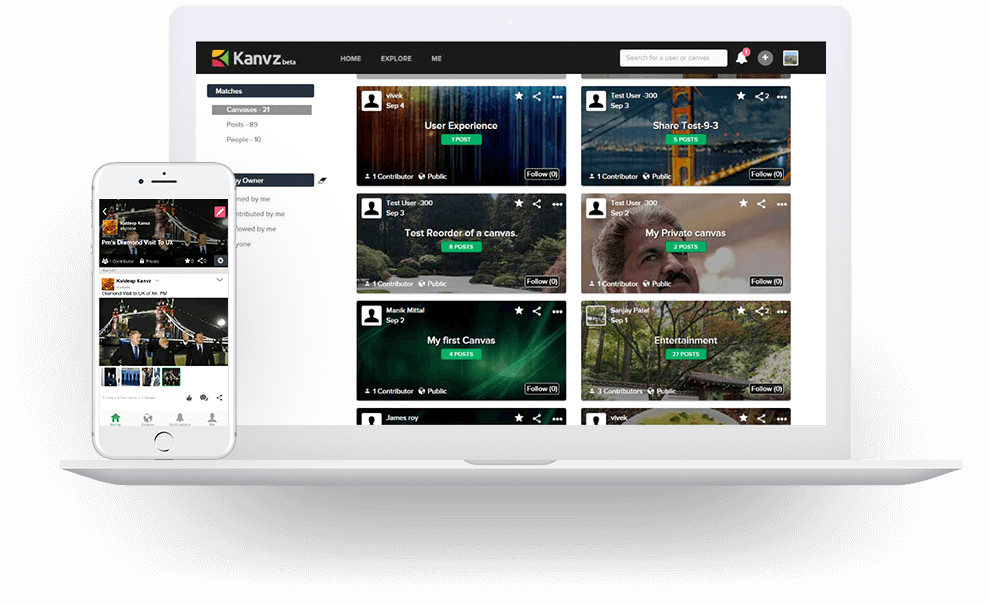 Social Canvas Cloud App
Given the multitude of social networking platforms currently being used, users face challenges such as: ease of organizing rich multimedia content based on event/topic, effective management of content, ease of sharing within interest groups, and automated promotion of content on Facebook, Twitter, YouTube, and other social sites. A new cloud social app, Kanvz, overcomes these challenges by providing a single platform where users can join friends, family and peers in curating compelling stories, collections and events from multiple sources. The basic construct is a 'canvas' which can be shared with invited contributors.
Featured Resource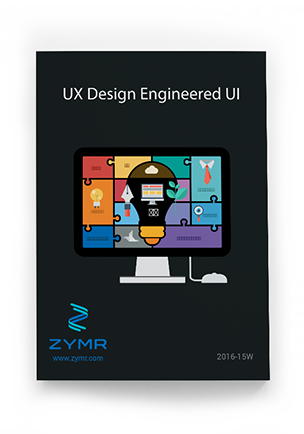 UX Design Engineered UI Guide
This guide illustrates how effective User Experience Design leads to high quality user experiences (CX), which are endemic to app adoption, app monetization and market success. The overview explores key challenges in UX/UI development, lean and agile processes for UX design, how Zymr employs Design Patterns for multi-modal access, and best-in-class technology stacks for creating highly responsive UI experiences. Also included are brief case studies with some of Zymr's work in this area.