Business Value
Zymr developed an engaging SocialTech platform that helped users rapidly create web, blog and portfolio sites without templates and coding.
Solution Map
Verticals

CloudTech

HealthTech

FinTech

RetailTech

SocialTech

ShareTech

Domains

Applications

Security

Infrastructure

Orchestration

Mobility

Analytics/AI

Practices

Development

Cloud Operations

Quality Engineering

Continuous Integration

Continuous Delivery

UX / UI
System Architecture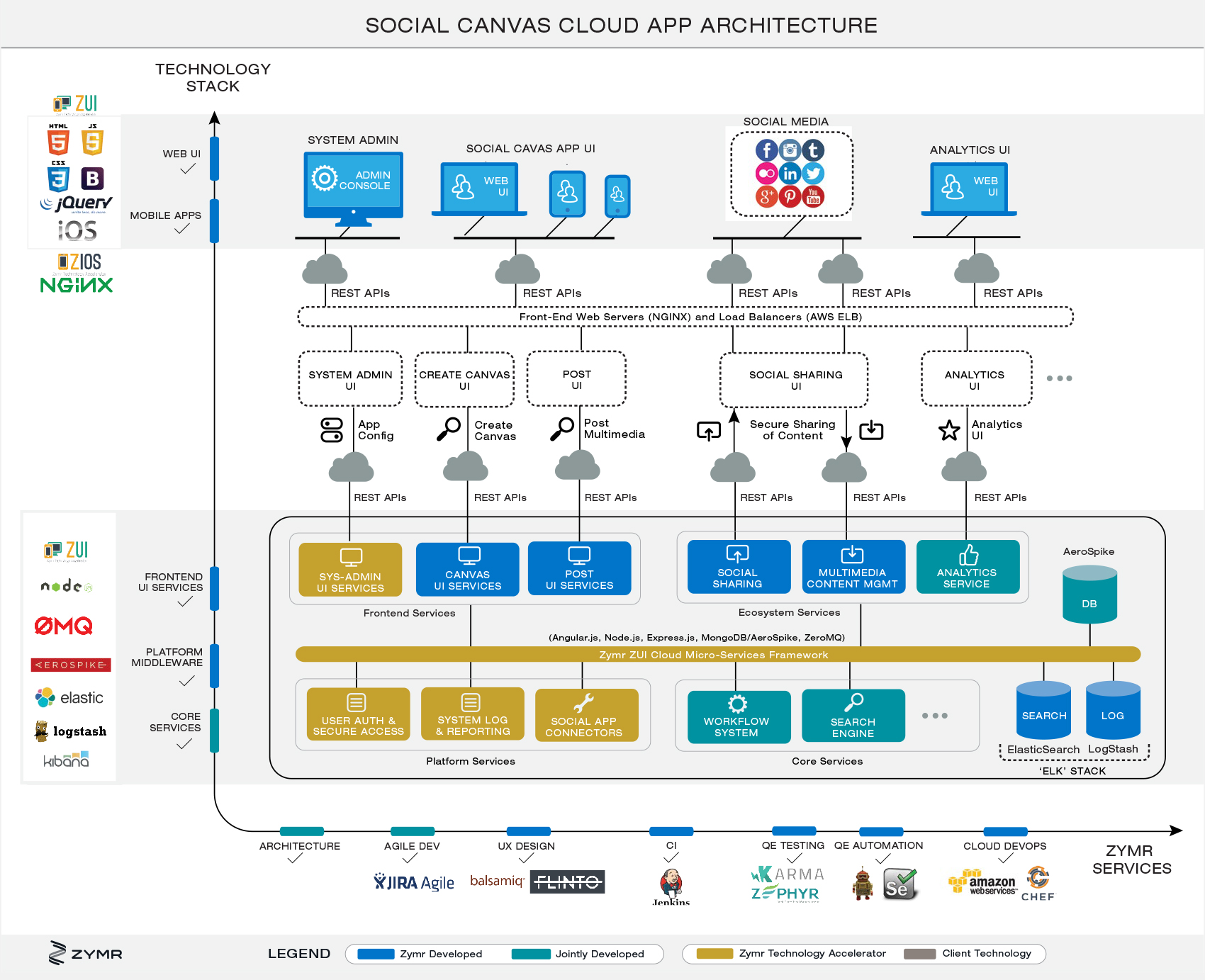 Software Implementation
Zymr's full-stack development team helped qualify the ASEAN stack and implemented a microservices architecture on Node.js with ZeroMQ, to meet the most demanding responsiveness, performance and scalability goals.

This social platform was built from a cutting-edge open-source application stack called ASEAN (AeroSpike NoSQL DB, Express.js, Angular.js and Node.js). This is similar to the MEAN stack, except that MongoDB is replaced with Aerospike NoSQL DB.

Zymr also implemented the Web Portal and iOS App for this platform.

Success
Zymr followed an agile development process to deliver a highly responsive and scalable cloud app using the modern cloud stack. The use of two of Zymr's ready-to-use technology frameworks – Zui and ZiOS – helped in the delivery of a stable product at much lower risk and shorter time-to-market. The use of AeroSpike NoSQL DB was a huge win. Zymr's DevOps team worked to launch this platform on Amazon AWS, using autoscaled EC2 VMs, ELBs, Nginx, Route 53, CloudFront CDN and S3. The iOS app was developed and launched on Apple's App store. Zymr's team collaborated with the customer to leverage an analysis of the engagement to plan future enhancements. The app was also deployed for a premier educational customer for student engagement.
Implementation ToolBox
Frontend

Angular.js
Bootstrap.js
Zymr ZiOS
D3.js
JavaScript

Backend

Node.js
AeroSpike DB
ElasticDB
LogStash
Kibana

Resource

Zymr Taos
IoT
Networks
Servers
Storage
Process

Jira
Zephyr
Jenkins
Maven
Balsamiq