Business Value
Zymr built a full-stack CloudTech cybersecurity manager capable of visualizing the threat matrix for enterprises, and providing actionable intelligence to manage these threats.
Solution Map
Verticals

CloudTech

HealthTech

FinTech

RetailTech

SocialTech

ShareTech

Domains

Applications

Security

Infrastructure

Orchestration

Mobility

Analytics/AI

Practices

Development

Cloud Operations

Quality Engineering

Continuous Integration

Continuous Delivery

UX / UI
System Architecture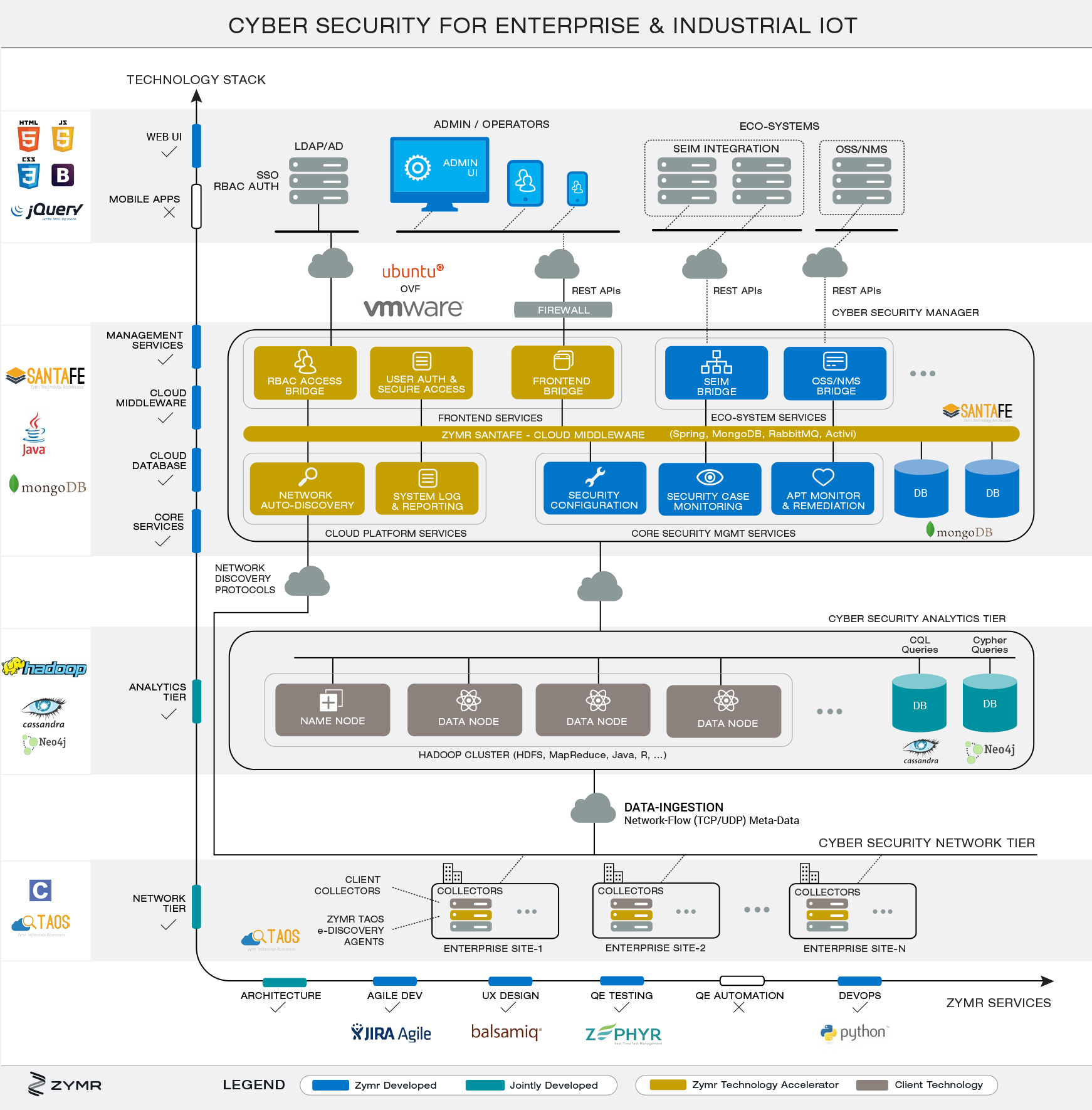 Software Implementation
Zymr developed a comprehensive security orchestration and management solution that interfaces with the analytics tier of the platform. Using Zymr's proprietary SantaFe microservices cloud framework, a highly stable, secure and scalable platform was developed in Java and Python, powered by MongoDB and Neo4J databases.

Zymr also developed a comprehensive UX design-driven Web Console using cutting-edge JavaScript components and SVG driven graphics libraries for management of APT lifecycles.


Zymr's DevOps experts enabled scalable deployment of the security solution on public and private cloud environments. The project was executed in a fully integrated CI/CD environment.

Success
Zymr's contributions to completing the cyber security solution with a custom-built security management and orchestration platform, leveraging SantaFe, was a huge success. The cyber security solution has been showcased in many industry forums, such as RSA Conferences, and won awards for its UX and UI. The solution is gaining traction in security Industrial IoT environments, and with large Enterprise customers.
Implementation ToolBox
Frontend

HTML
Bootstrap.js
Backbone.js
Keyline.js

Backend

Java
MongoDB
Neo4j
Cassandra
Hadoop

Resource

Zymr Taos
IoT
Networks
Servers
Storage
Process

Jira
Zephyr
Jenkins
Maven
Balsamiq