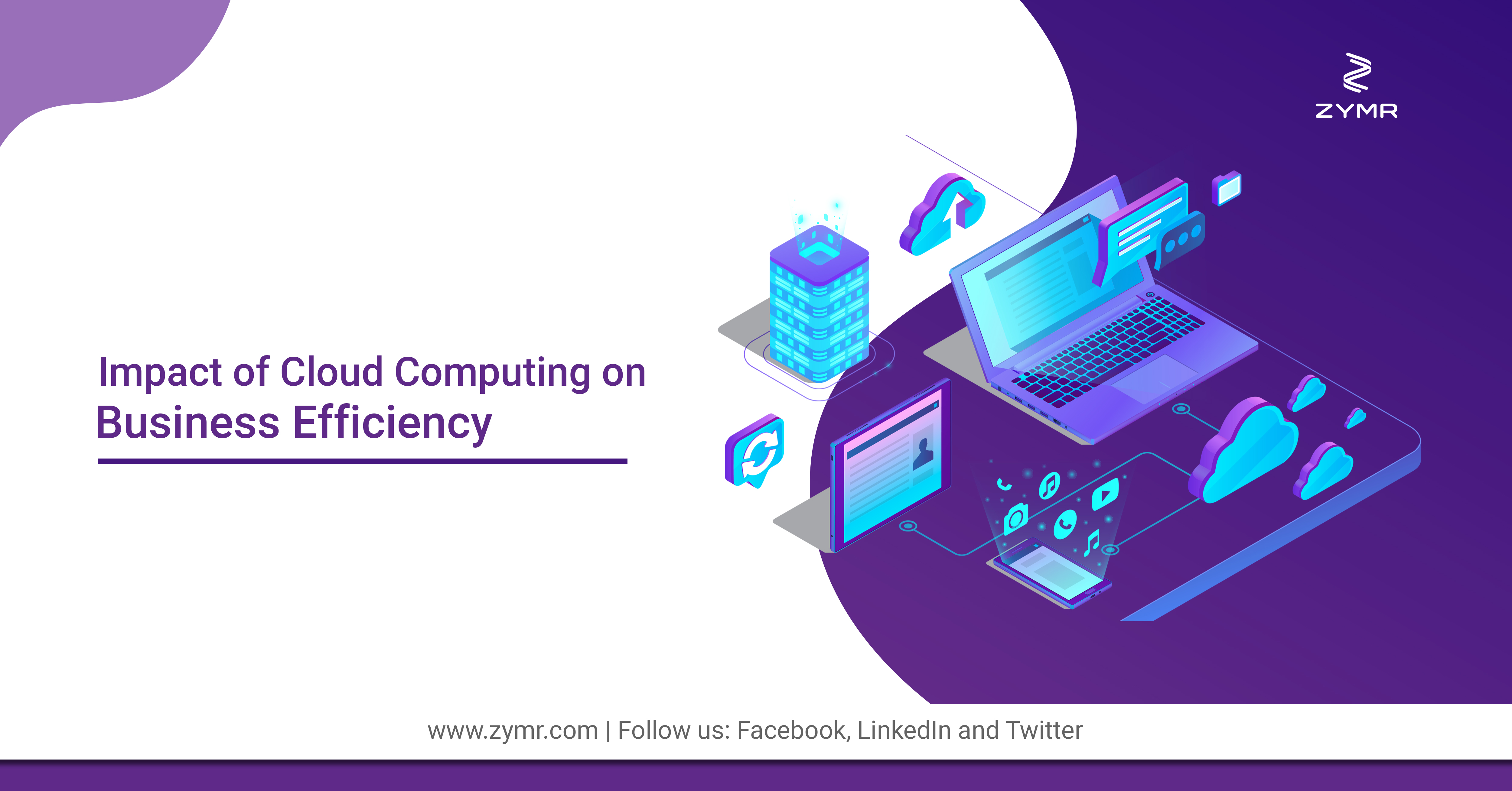 ________________________________________________________________________________
In a nutshell, the essence of cloud computing lies in providing quintessential services to corporates with the help of the internet. Cloud computing technology provides a plethora of benefits to organizations irrespective of their geography, function, size, and scale. ________________________________________________________________________________
With the proliferation of digitalization, we have become the ultimate digital consumers. For decades, technology has facilitated businesses in cutting down the expenses and streamlining the processes. One such invention that has played a game-changing role in the entire technological landscape is none other than cloud computing.
Cloud computing brings efficiency, where efficiency equals scalability plus innovation plus collaboration. Did you know, 67% of enterprise infrastructure will be cloud-based by the end of 2020? Furthermore, by ditching the inhouse servers, 83% of the company's workload will be redirected to the cloud because of the outstanding benefits of cloud computing.
These are the top three benefits of cloud computing that can help businesses increase their efficiency:
Leveraging cloud computing technology can drive your business growth to an unprecedented level. By keeping growth on the front foot, cloud technology also considers cost, data accessibility, security, and storage under the loop.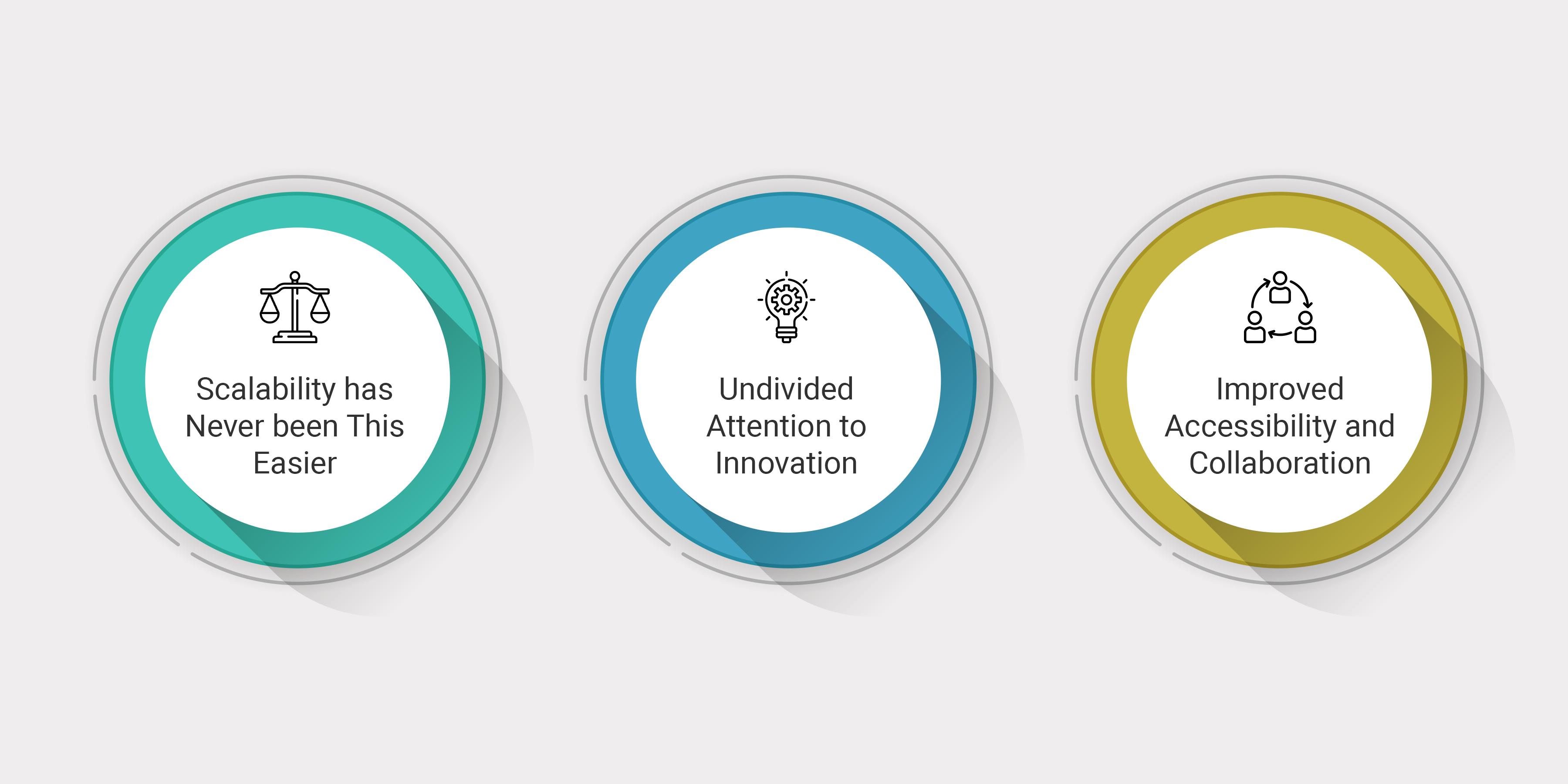 1. Benefits of Cloud Computing: Scalability has never been this easier.
Cloud has empowered organizations with a readily-available infrastructure, which is phenomenally scalable. As the market is unpredictable, scalability has always been the biggest glitch among business houses. When a business is flourishing, and in a growing phase, any infrastructural hindrance can have a disastrous impact on the overall growth.
On the other hand, if the infrastructure is readily available, the entire process can be smooth and streamlined like never before, which is why in 2018, cloud infrastructure spending surpassed $80 billion.
Netflix is a premier example of a leading tech giant resorting to AWS to achieve scalability. The traditional infrastructure of Netflix was refraining it to keep up with the surging market demands. An abundance of data was causing information overload, and costs were causing bottlenecks. With the cloud, Netflix has managed to reach the top of its game by offering an excellent user experience to its consumers. Netflix has become the second-largest most used video service in the US and is known as the Titan of Video-on-Demand.
Uber incorporated cloud computing in its business operations to overcome scalability issues. Cloud has helped Uber in enhancing agility, reliability, practicality, connectivity, and get a competitive edge over its rivals. Today, Uber has become the smartest way to get around. With real-time respond to demand and the ability to cope with uptime and downtime, Uber has fulfilled its promise 'Always on, Always available.'
2. Benefits of Cloud Computing: Undivided attention to innovation.
Despite being the most crucial factor in driving business growth, innovation takes the last place. Deploying cloud technology can foster an environment for innovation. With technical and operational aspects in place, businesses can divert and reroute their time, attention, and efforts on achieving the innovation. Managing the data brings effectiveness and efficiency while managing servers doesn't do any good on organizational efficiency. Innovation provides a competitive edge and helps in outperforming the competition, and the cloud has made this possible.
It is hard to locate a company that is not using cloud technology. In chatbots, Google Assistant, Siri, and Alexa are the cloud-based bots. In communication tools, Whatsapp, Skype, Facebook, LinkedIn, and Twitter are based on cloud-infrastructure. In productivity tools, Google docs and Microsoft office use cloud computing. Salesforce, Hubspot, Dropbox, Gmail, SlideRocket, and ClearDATA have incorporated cloud computing.
3. Benefits of Cloud Computing: Improved accessibility and collaboration.
Collaboration plays a pivotal role in proliferating business efficiency. As cloud computing provides access anytime, anywhere, it is one of the primary reasons why businesses want to go to the cloud. Accessibility boosts collaboration, which, in turn, can skyrocket your growth. With cloud computing, real-time communication can take place, and sharing can be done at a tremendous pace as location will not act as a barrier anymore.
Slack is a popular tool among corporates to facilitate the team's communication. To combat the challenges and thrive in the competitive market, this start-up has chosen cloud technology and AWS. "With traditional IT, it would take weeks or months to contend with hardware lead times to add more capacity. Using AWS, we can look at user metrics weekly or daily and react with new capacity in 30 seconds," said Richard Crowley, Principal Engineer, Slack.
Zoom is a cloud-based software platform to overcome geographical barriers and expediting audio and video conferencing. Zoom meetings can be recorded and saved anytime, anywhere, and the cloud has made it accessible to all. Around 171 Companies, including Uber, NASDAQ, Slack, and more are using Zoom meetings for team collaboration.
How can Zymr Propel Your Business Growth With Cloud Computing Services?
At the global level, the cloud computing market will be worth $623.3 billion by 2023, while in 2018, it was $272 billion. The cloud industry is growing at an impressive CAGR of 18%. Any organization which is not catching up with the pace at which the cloud technology is thriving will surely get kicked out from the race.
We, at Zymr, are highly skilled at full-stack product engineering of CloudTech products and solutions. Our Cloud computing services can help you enhance and fine-tune your cloud architecture through innovation in cloud infrastructure, cloud orchestration, cloud security, and cloud enablement services.
Don't be a runner up in incorporating cloud computing! Accelerate the pace of your digital transformation by partnering with us today for outstanding cloud services and reap the benefits of cloud computing.