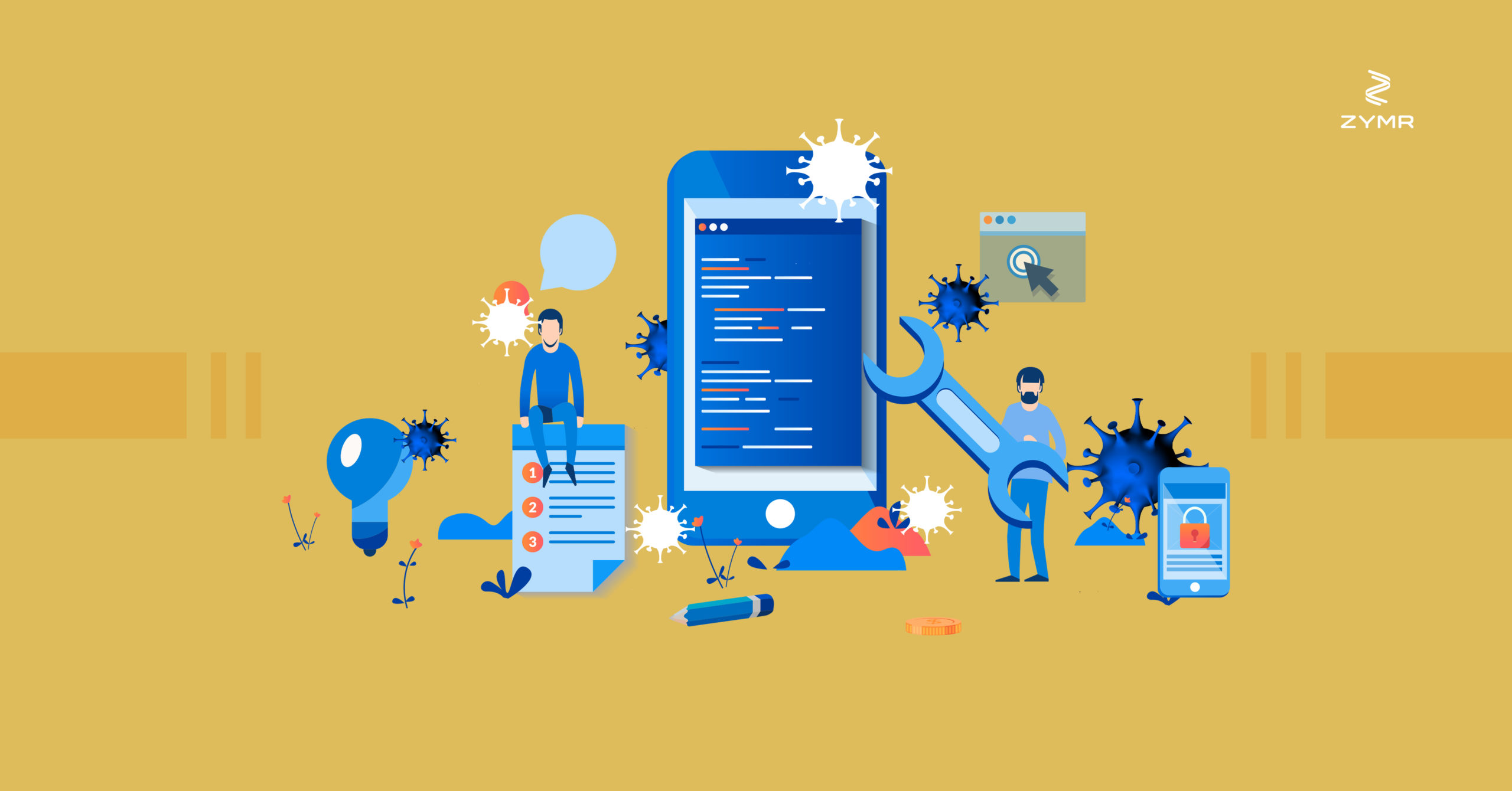 The COVID-19 pandemic has triggered a massive crisis all over the world. Everyone has been under immense psychological distress due to self-isolation, home quarantine, and social distancing. If we talk about the corporate world, the world economy has hit rock bottom due to stringent lockdowns. Businesses have shut down for an unforeseen period of time. Industries like manufacturing, travel and tourism, real estate, fashion, sports, entertainment, and hyperlocal marketplaces have got major fiscal shocks. While all these factors are will-shattering enough, mobile apps have appeared as our companion in a tough time. They have come to the rescue as a trusted ally while everyone is caged in their houses with little or no social activities.
During this pandemic, there are certain mobile apps that have made our lives much easier under house arrest. On-demand apps, grocery apps, entertainment apps, and digital payment apps have skyrocketed during the crisis as people are not allowed to go out of their houses. Companies and businesses that have resorted to digital platforms at the right time have started reaping its benefits. In fact, this pandemic is an eye-opener for businesses that considered mobile apps to be optional. In this blog, we will talk about the top mobile app categories that have proved how mobile app development can help you propel your business growth even during a time of the pandemic.
#COVID 19 – A List of Popular App Categories That Empowered People to Stay Strong
Healthcare Apps
A strong Healthcare domain acts as the backbone of an economy. During COVID-19, the healthcare sector played a paramount role in educating and saving the lives of thousands of people. Medtech startups are collaborating with healthcare organizations and budding appreneurs to leverage digital platforms in order to help people survive the storm of Coronavirus disruption. From online fitness apps to medicine delivery apps, and on-demand doctors apps are taking care of people's physical, mental, and emotional health in this panic situation. From webinars to live sessions and recorded videos, healthcare professionals are helping people to fight negativity, anxiety, and depression. On-demand medicine delivery apps provide on-time delivery at the doorstep to empower lockdown and support people who are scared of accidentally coming in touch with the virus.
Ace the new normal with Zymr's mobile app services
CONTACT US
Educational Apps
The education industry is no exception to the consequences of Coronavirus. While every university and institution is shut down for an uncertain period of time, students have hit hard as their education is disrupted after all education is the foundation of their career. COVID 19 has revamped the entire education sector as the majority of the students are from Gen Z who have grown up in a globalized and digitalized world. Institutes all across the world are resorting to digital platforms and opting for digital channels to help students learn, grow, and succeed. Due to the outbreak, e-Learning apps have seen stellar downloads in the USA, reported Statista. While EdTech startups are booming, the Learning Management System (LMS) and distance learning solutions have gotten a lot of traction among students to gain knowledge anytime, anywhere. Apart from video conferencing apps like Zoom, the popularity of top eLearning apps like Coursera, Google Classroom, LinkedIn Learning, Duolingo, edX, Alison, Harvard University mobile app, etc., have soared high as they are helping students to get uninterrupted and seamless education.
Entertainment Apps
One of the proven methods to keep all of us away from getting overwhelmed with unnecessary stress is nothing but entertainment. No one could think about a day without binge-watching Netflix or binging on your favorite social media apps especially when you are a serial tweeter and Instagrammer. During the pandemic, usage of entertainment apps like Netflix, Amazon Prime, YouTube, HBO Now, Spotify, Google Play Music, Snapchat, IMDb, Scrabble GO, etc., and social media apps like WhatsApp, Instagram, Facebook, Twitter, Reddit, Pinterest, Tik Tok, Likee, and Tumblr have witnessed a steep hike like never before. News apps and social media apps like Twitter and Facebook have kept everyone updated on the latest happenings across the world. Entertainment apps have become a pivotal part of our lives that to spend a day without these apps seems next to impossible. While we are physically distant to our close ones, social media brings us together, at least virtually. The constantly changing algorithms of these social media apps make sure that COVID-19 information from relevant sources like the World Health Organization (WHO) and health ministries of every country appears on the top of the feed to educate people.
Remote-work Apps
Prior to the COVID- 19 episodes, remote work culture was not recognized as a primary work culture but today, it has become a new workplace reality. There are no odds to work seamlessly from home without Zoom cloud meetings, Slack, Skype, and other enterprise apps. Enterprises have embraced an elastic workplace reality to witness a responsive and zero-latency transition while working from home. Remote work app category has grown amazingly well as apps related to video conferencing, web conferencing, prompt messaging, and group chats helped professionals to help work done. Some of the most preferred remote work apps are Zoom, Skype, Slack, DingTalk, Zapier, Dropbox, VooV Meeting, Pocket, Evernote, and Microsoft teams. Enterprises across the globe are trusting these apps to keep the ongoing communication intact and trying to embrace these new workplace realities. To be honest, it's extremely difficult to imagine working from home with ease without apps that facilitate and streamline remote work. Remote-work apps have made the lives of working professionals hassle-free that no one can ever imagine working with zero-latency without them especially amidst total lockdowns and shutdowns.
Looking for a Top-notch App Development Company in the USA?
We have seen in the blog how crucial it is for entrepreneurs to convert a business idea into a full-fledged mobile app to boost business growth and withstand global crises. Mobile apps not only help you amplify your digital presence but also provide a seamless experience to your customers and clients. Zymr is a leading mobile app development that assists other companies in developing feature-loaded and exquisitely designed apps. Zymr's mobile application development services help companies deliver security without impacting usability, and provide users a more intuitive experience across devices, fully leveraging the game-changing potential of mobility. We hold profound experience in delivering Android app development, iOS app development, Hybrid app development, and React Native development services.
Schedule an appointment with our team today!