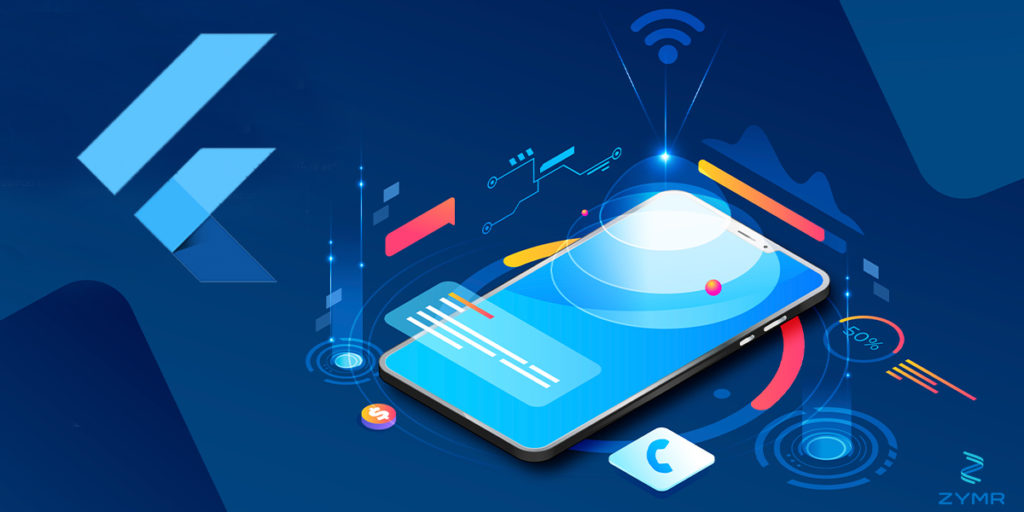 __________________________________________________________________________________
Whenever a tech giant launches a new framework in the market, every tech news revolves around it. Every successive tweet talks about it thus making it a buzzword. Flutter is one such framework to have caught the attention of the entire app development landscape.  
__________________________________________________________________________________
Launched by Google, Flutter is an open source mobile application development framework. With an open source software development kit (SDK), it can seamlessly create both iOS and Android mobile apps. Flutter ensures high-fidelity apps, higher performance, and highest flexibility. Developers get lured towards Flutter due to its ability to provide the utmost convenience and compatibility.
Eric Seidel, the mastermind behind the launch of Flutter, wanted to introduce a technology which would be easier to implement to mobiles. Presence of dart programming language and absence of Javascript bridges have brought unmatched ease to the developers to a certain extent.
What Makes Flutter So Popular Among The Developers? 
One of the biggest reasons to choose Flutter over other frameworks is its ability to provide a plethora of technical features. It offers native-performing apps without using any native UI component and has in-built UI components and widgets. 
Widgets, in this case,  act as the foundation blocks in an app's UI and therefore are one of the most important parts of mobile apps. They define the structural or style element, and various aspects of layouts in an app. You can combine both the widgets i.e., Material design and Cupertino into one application and the app will continue looking the same. 
Rich motion APIs, easier scrolling, material design (Android), and Cupertino (iOS) widgets are few of the essential features of Flutter, which can create an outstanding user experience in applications. The list of its amazing offerings doesn't end here.
By incorporating numerous useful plug-ins and packages, Flutter ensures on-time delivery of resources by providing great ease. It aims to improve the pace of frames per second (fps) in animation and transition. It can go to 60 fps or even 120 fps performance in devices that support 120Hz updates. 
'Jank' is said to occur when UI doesn't render smoothly, and the system starts to skip frames. This process, in turn, leads users to encounter stuttering in the app. Flutter's job is to prevent such mishaps.
Flutter also provides a plugin to get the location of the device. By declaring the plugin in a yaml file and providing the permission as per the respective platform, you can send and fetch the request to get the current location. Flutter also supports Google maps. 
Dart is a compiled programming language, which Flutter uses to grapple the performance issues related to the need of a JavaScript bridge. Ahead of time (AOT) and Just in time (JIT) in dart can lead to faster development cycles. Here, the 'hot reload' feature comes in the picture. 
One of the significant features of Flutter is definitely none other the 'hot reload'. Changes and edits will be visible to developers at the same time they are made. The developers can make modifications in a Flutter app while it is running. If an app encounters an error, it can be fixed right away without any delay. 
Because of Dart, you don't have to code a new program every time new changes are introduced. Thanks to hot reload. Even in the case of full reloading, Flutter is extremely performant and compatible. 
An Android application is different from an iOS application. Differences are not only in the terms of color combinations but also dimensions and styles of a widget. Flutter has a feature called 'Theme'. You can use these themes within your widgets. Material widgets in Flutter use them to set the font styles and background color for AppBars, Checkboxes, Buttons, etc.
With an intent to take it one step closer to perfection, Google developers are always on their toes. They are constantly thriving for Flutter's ability to support more Firebase APIs, use more tools for Android studio and visual studio code, streamline engine performance, fix bugs, achieve effective documentation, support different languages.
They are also working on features like inline videos, ads, and charts. With offerings like cross development platform, eye-catching interface, fewer codes, rapid app development, flexible APIs, Flutter can be an ideal choice for creating a Minimum viable product (MVP). These benefits surely make Flutter start-up friendly.
(Read more about ReactJS and AngularJS, a vis-a-vis comparison)
Flutter Approach – Taking a Closer Look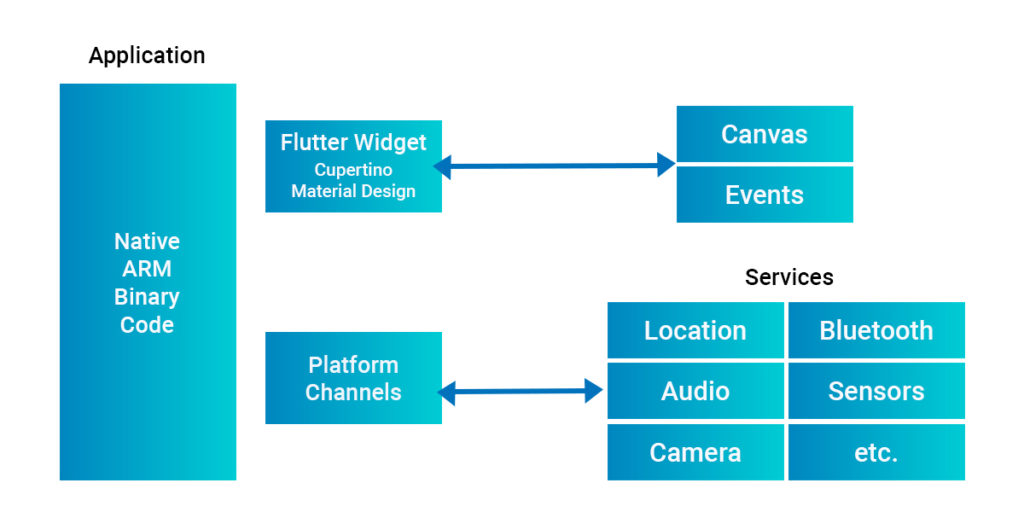 Flutter System Overview
Dart, the client-optimized programming language allows Flutter to save a tremendous amount of time. Flutter can directly communicate with different platforms without a Javascript bridge. 
It is a modern react-style framework, with outstanding development tools, ready to use widgets, and a 2D rendering engine. Designing, building, testing and debugging apps are now extremely easier with this sort of framework.
Get to know more about a new #Flutterinfocus series (Video Link)
Zymr is here to make you Flutter ready.
Do you want to create a progressive app? Does your app rely heavily on native libraries? Does your app communicate to hardware? Flutter app development can be an ideal choice for your project. Since the launch, It has outperformed the existing app development frameworks by offering a multitude of benefits. 
Partner with us and develop a complete solution through Flutter, which can ensure the ultimate user experience.
Contact our team today and make yourself Flutter ready!