The Client
Vodafone is one of the largest telecommunications behemoths offering a wide range of services to both enterprise and consumer customers. The company provides Mobile, TV, and Fixed to its consumer customers and an industry pioneer in IoT delivering carrier, security, and cloud services to enterprise customers.
Business Impact / Key Results Achieved
Vodafone's My Vodafone eCommerce marketplace piloted the developed solution in Romania with a planned roll out in Italy, Greece and other countries. During the first 90 days of the rollout, over 150,000 subscribers registered on My Vodafone and actively transacted millions of Euros of commerce. Zymr's solution recorded a 99.95% uptime, meeting Vodafone's goals in this area.
Business Challenges
Vodafone had two main challenges: How to extend My Vodafone's features to keep their subscribers stick to Vodafone? How to extend the business model further to provide eCommerce services? The idea of building a Groupon style daily-deals mobile commerce framework was compelling. Vodafone has a significant thrust on bringing value-added services under its My Vodafone consumer portal. With a sizeable captive subscriber pool that includes businesses and consumers, it was looking for new business models to keep these subscribers active with the brand.
Zymr's Strategy and Solution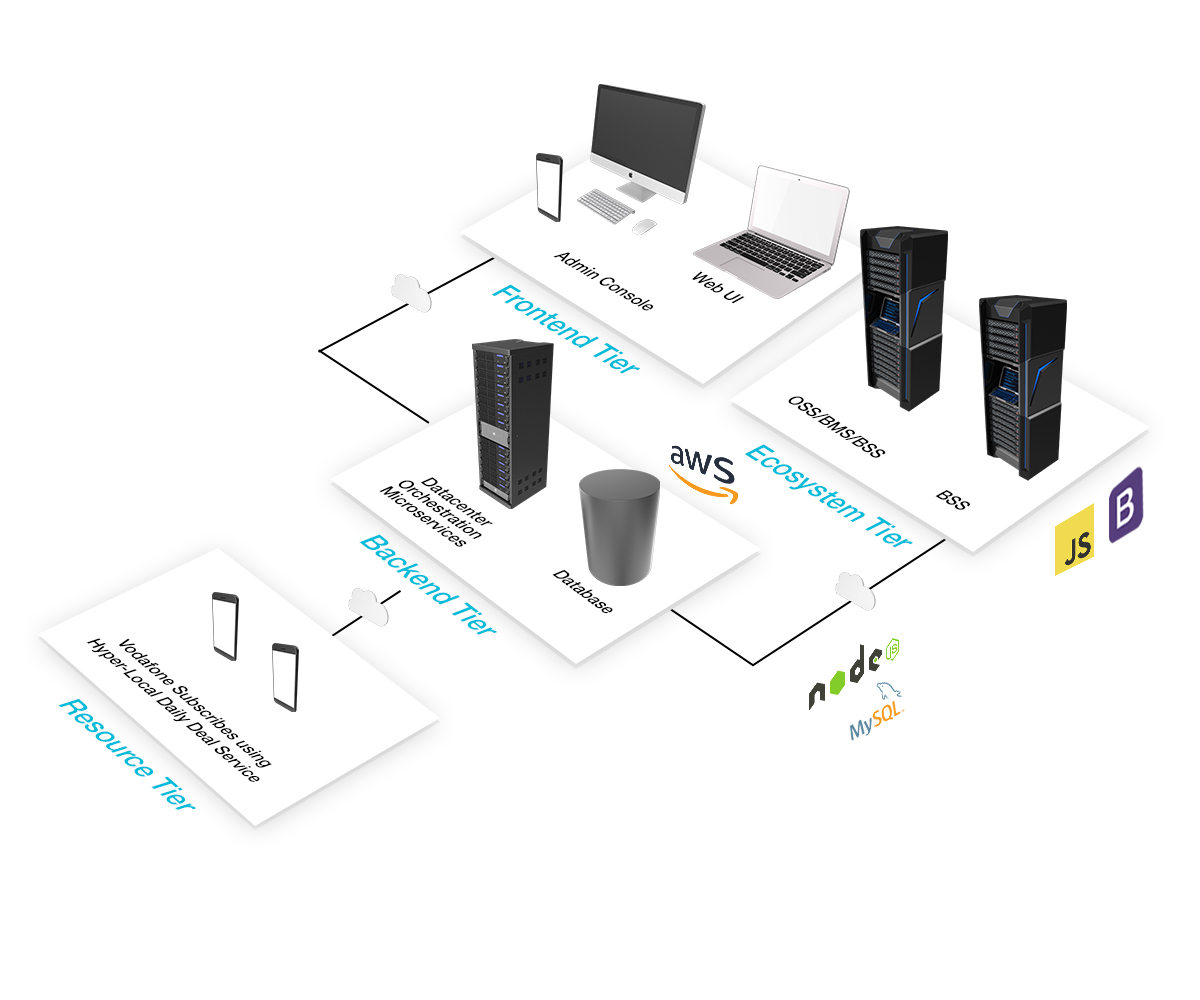 Zymr developed a full-stack high-performance marketing automation and e-commerce platform (integrating Magento with Santa Fe) with accompanying Web and Mobile apps. We leveraged Santa Fe with an integrated automated campaign engine for location-aware deal promotion over email and SMS. We implemented various integrated checkout and multiple payment gateways viz. Credit Card, Mobile Billing (MT-Billing), PayPal, etc. We developed a JSR 286 portlet for integration with the 'My Vodafone' WebLogic portal and 'one-time password authentication' over SMS for subscriber authentication. This solution supported SSO based RBAC with varied roles such as Administration, Campaign Manager, Customer, HelpDesk/IVR User, etc. Our team used the popular Magento open-source eCommerce platform to host the catalog of daily deals from merchants and provided Vodafone branded Web, iOS, and Android mobile apps for subscribers to browse deals and add items to their shopping carts. We architected a cloud DevOps environment for Amazon AWS and executed CI/CD DevOps using Jenkins, Puppet, and Python. Moreover, we tested for PCI compliance with Amazon AWS customer support. This platform used SMS and email to push daily deals to consumers. Our DevOps team hosted this complex app on a PCI compliant Amazon AWS environment with 99.99% availability.