The Client
Mozzaz is a Canada-based healthcare solutions company that delivers mobile solutions for complex care patients and the care teams, which support them.
BUSINESS IMPACTS/KEY RESULTS ACHIEVED
Mozzaz designed the system of flexible workflows and notifications. Zymr enabled flexible rules and workflow-based integration with EHR systems and helped in generating SMS notification on the trigger of workflows.
Business Challenges
Mozzaz wanted to build a service orchestration solution that easily integrates with a variety of leading EHRs, such as MEDITECH or CoCENTRIX. They also wanted to create a HIPAA-compliant cloud and mobile solution to empower patients by making them active participants in their long-term care. Their mobile platform allowed the patients to access, adjust, and refine their electronic healthcare information from anywhere, at any time, and to get better support from the family members, caregivers, and healthcare professionals who serve them. To realize the full benefit of the solution, we required flexible and rapid integration with Mozzaz's EHR system. The company wanted to create flexible onboarding of their patients in care network EHR systems.
Zymr's Strategy and Solution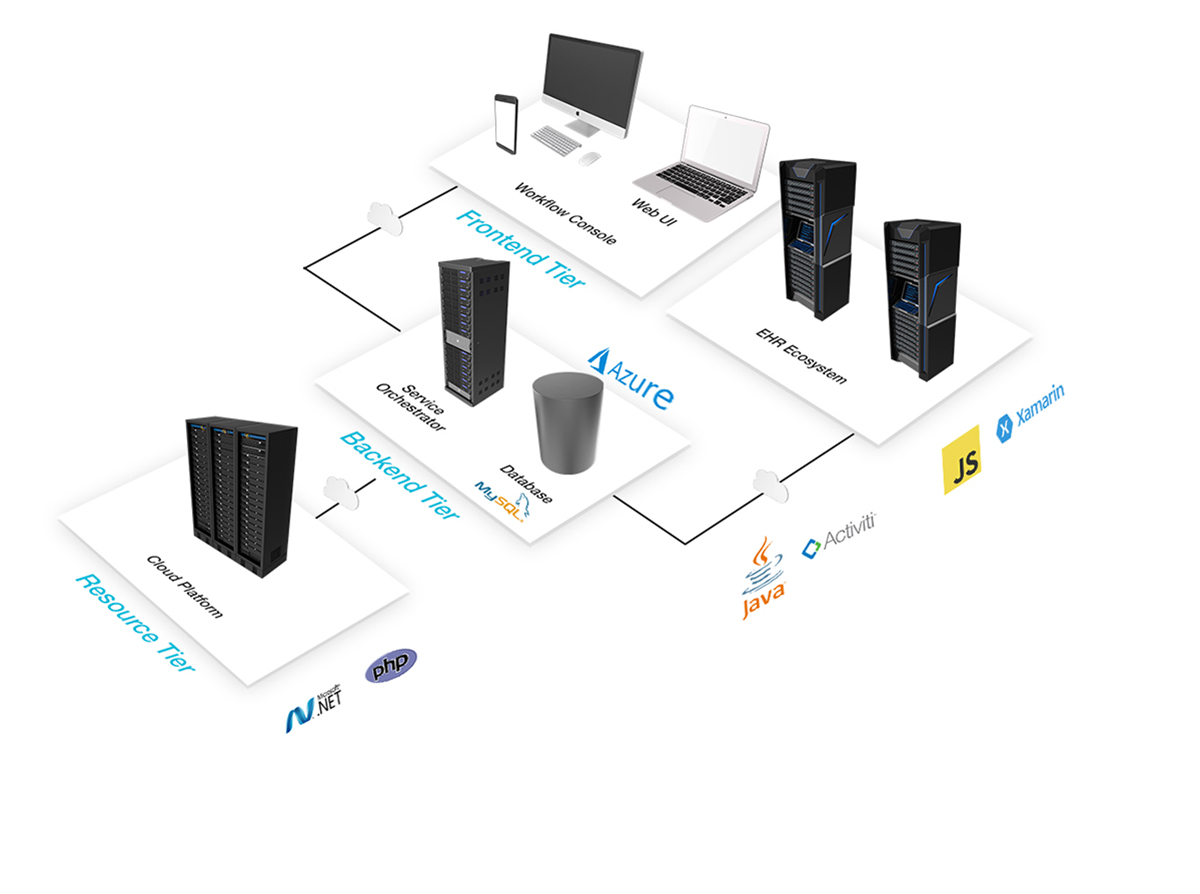 Zymr developed a Workflow Engine. We integrated it with Mozzaz's Care platform and various EHR systems. Our team created a Workflow service with UI and backend services and provided easy to use drag-and-drop workflow designer. The QE team performed end-to-end system testing with the root EHR snap and a simulated EHR before real-world integration. Pre-testing of root EHR snap enabled smoother and faster client-specific EHR integrations. Our DevOps team helped in ensuring a Microsoft Azure-based cloud deployment with full HA to ensure 24×7 and secure full-duplex interchange of data between the client's cloud and the HDO's EHR system. The service orchestration solution for Mozzaz was built using microservices architecture and HL7/ FHIR-HL7 compliant rules-based snaps. The core systems of their cloud evolved independently from their service orchestration solution as these were loosely-coupled with one another.