Overview
Zymr Cabos is an initiative to leverage various SDN controllers, and address the feature functions of these controllers, for building SDN Orchestration. Cabos leverages Zymr's SantaFe cloud application framework, along with multiple SDN controllers, to develop a SDN product and seed ideas for multi-vendor Network Virtualization Orchestration. Cabos focuses on the integration of network visualization by leveraging multiple open source SDN controllers including ODL (OpenDayLight), Floodlight, Ryu, NodeLow and others. Cabos is built on Zymr's SantaFe PY cloud-based framework written in Python. Cabos discovers the SDN network topology, builds a network graph, monitors events, and implements policy-driven service orchestration. Cabos uses Mininet for development and OpenVNet for testing. It adds a Network Virtualization layer on top of the existing physical network to exemplify the creation and operation of multi-tenant networks through the use of OpenVSwitch. Cabos provides a rich administrative console offering the integrated management and orchestration of a multi-controller SDN network.
Requirements
Cabos was developed to benefit companies that are considering the implementation of Software Defined Networking using multi-vendor SDN controllers in their datacenters. As such, it was built to meet the following requirements:
Orchestration : Orchestration of SDN network virtualization use cases
Open Architecture : Leverage open source frameworks
Multi-Controller : Support multiple open-source controllers concurrently
SDN Ontology : Develop common standards-based SDN ontology that supports multiple controllers and normalizes their object models in Cabos
Discovery : Discover all the network elements and objects supported by each instance of the SDN controller
Event Management : Perform canonical event management across multiple processes
Console : Enable visualization of network topology, flow management, and event management
Orchestration : Support orchestration of network virtualization
Cloud Ready : Provide flexible deployment on various cloud environments by leveraging Linux based VMs, with ready support for Amazon AWS, OpenStack, VMware and other environments
System Architecture
The system architecture and all the key components of Cabos are as under: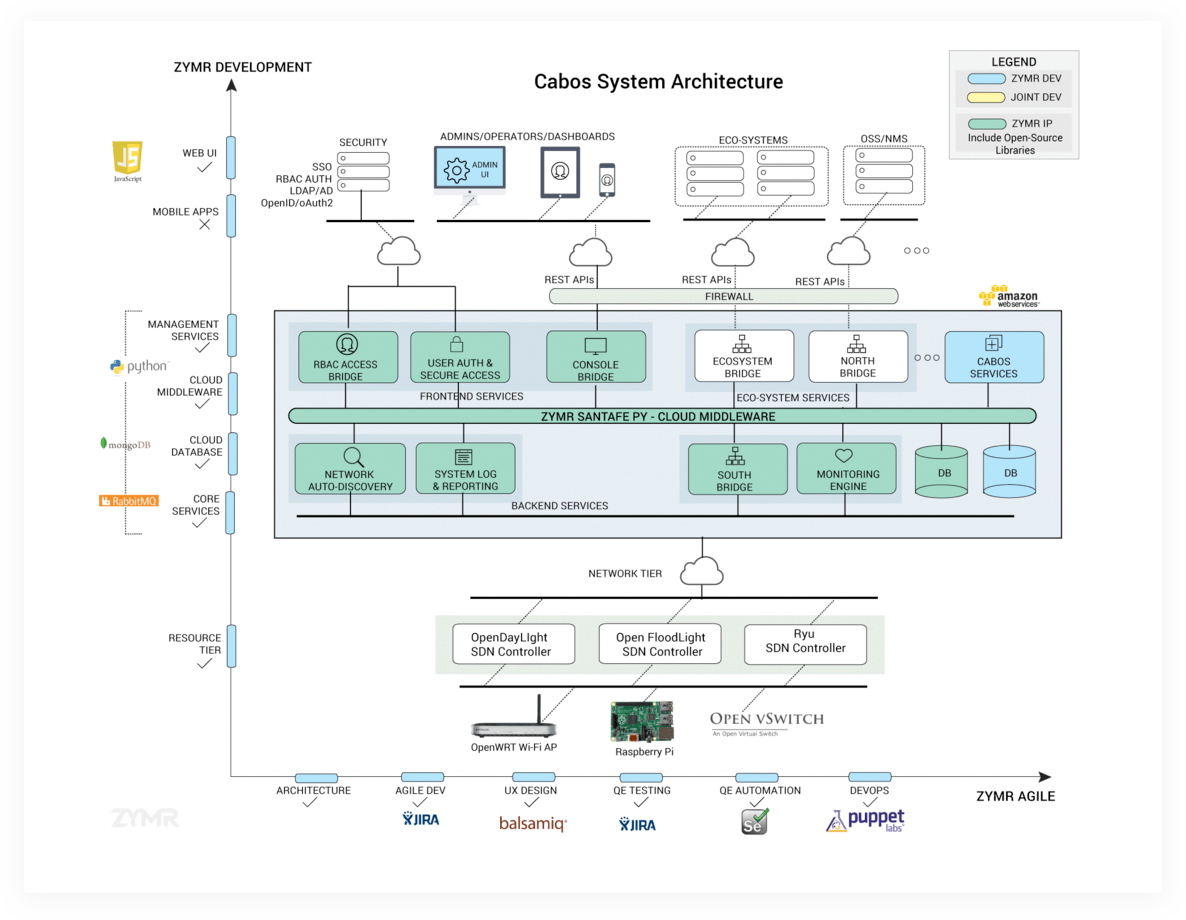 Software Implementation
Cabos orchestration is tied to multiple Open-Source SDN controllers to exhibit a multi-vendor and multi-tenant network virtualization use-case. Cabos heavily leverages the ODL SDN Controller, but has been integrated with the Ryu and Floodlight controllers.
Cabos builds on the M&O (Management and Orchestration) archetype. It is able to build a canonical network graph through a discovery engine that connects to multiple SDN controllers. It then offers consolidated event management and monitoring features with strong visualization through the Cabos Console.
Zymr follows agile development processes with clear articulation of requirements in Jira, unit-testing of every component, and end-to-end system testing with rigorous emphasis on subjecting the framework to stress over extended periods of time. SantaFe based systems have been deployed in various cloud environments using Linux VMs and automated DevOps using Puppet and Python.ts.
Success
With Cabos, Zymr has successfully developed a technology accelerator that is built to enable the centralized orchestration, management and monitoring of multi-vendor SDN controllers. Cabos can be leveraged for building various SDN orchestration applications, integrated with any of the SDN controllers – standard or proprietary, and a wide variety of hardware and virtual switches.
SDN Controllers : OpenDayLight, FloodLight, Ryu
Networking : Open vSwitch, OpenWRT Wi-Fi APs and Raspberry Pi.
Auto-Discovery : Discover the topology and host information supported by multiple SDN controllers.
Topology View : Single dashboard for all the discovered controllers and attached elements
Event Logging: Normalized events from multiple SDN controllers are correlated with network elements and logged in the system.
Fault Management : Severe events are transformed into Alerts and notified to administrators using Email, SMS etc.
Flow Manager: Ability to manage and install Network flows dynamically and in real time using automated shortest-path discovery using multiple controllers.
Flow Monitoring: Monitor the flow statistics
Cabos and the underlying SantaFe PY are developed in 100% Python. Cabos implements Bootstrap, Angular and Node based response Web Console.
Showcase
Modern UX Design HTML5/CSS3 based Web Console