Companies engrossed in the IT domain are thriving hard to make the most out of the opportunities, not just to enhance their business value, but to offer an unparalleled customer experience to their clientele outrightly. With a significant focus on offshoring and outsourcing lately, Quality Assurance (QA) services have fetched a tremendous momentum in the entire IT domain globally. Continuous testing as an essential prerequisite has, therefore, become part and parcel of QA. It is an agile approach, where automated testing persistently takes place in every phase of software development since inception till delivery.
(Also read on The ever-evolving software testing practices in the Internet of Things (IoT) driven world)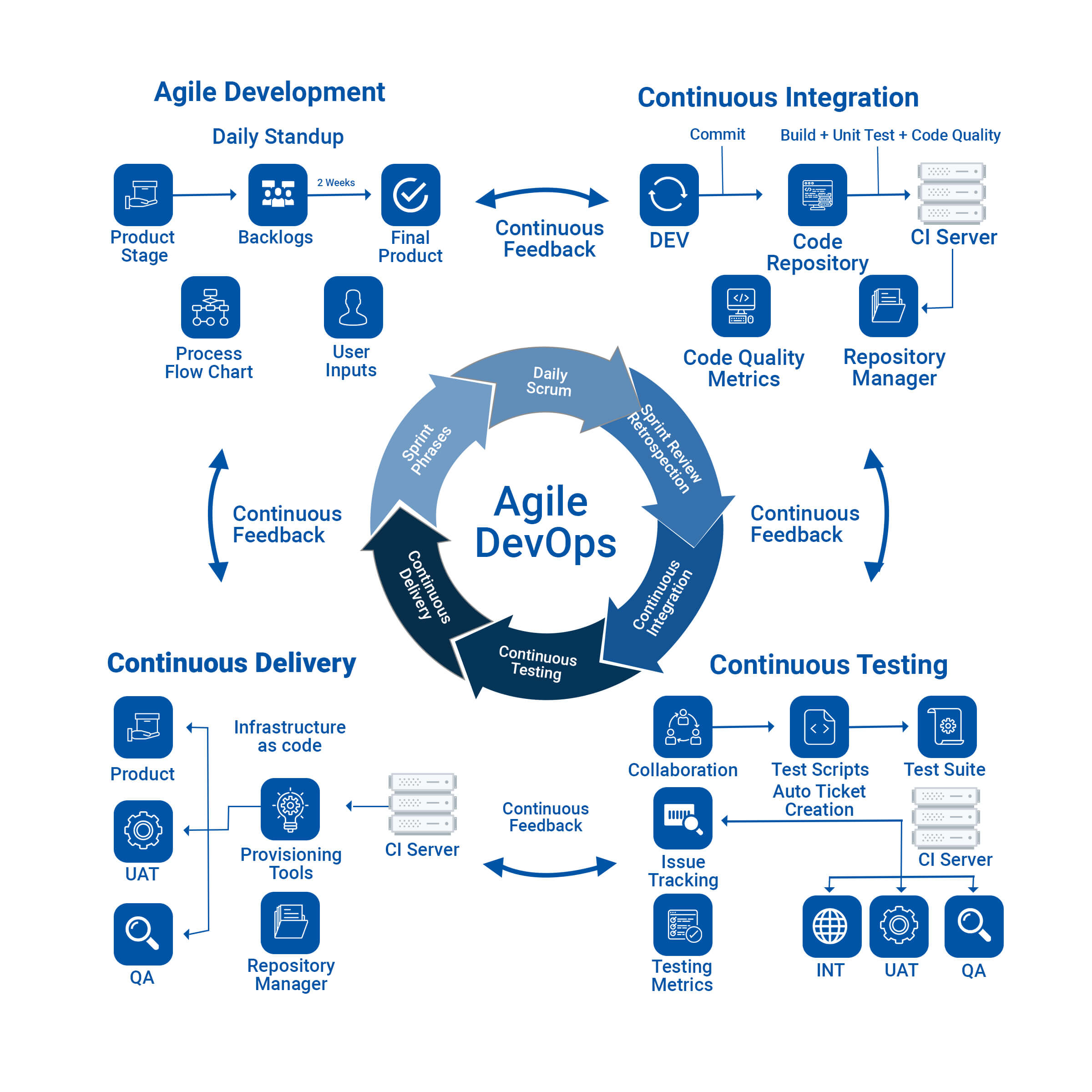 By continually considering the valuable feedback and involving in a thorough process of monitoring every possible risk, the quality of the build gets significantly ensured even before the actual release. This is the reason why continuous testing has become indispensable and has occupied a paramount position among the QA teams all across the globe. Adopt these below-mentioned best practices to enhance the essence of continuous testing and to harness the most out of the development lifecycle.
Put Greater Emphasis on Lean Testing.
The prominence of 'Lean Principles' is getting acknowledged worldwide across different hierarchical levels, different domains, and testing is no exception to this. You need to be vigilant and rigorous throughout continuous testing to generate the maximum business value out of it. Time and effort should be put extensively in a lean way, otherwise, they will all go in vain.
Lean testing makes the overall testing process faster. By removing the unnecessary layers in testing, lean testing aims to eliminate redundant and wasteful activities like extensive test plans, which don't add any value at all.
When lean gets combined with agile development practices, the results are magnificent. It reduces the cycle time and fastens the time to market.
While testing manually, QA analysts need to adopt a broader outlook towards the testing workflow rather than working in confinement and isolation.
Lean testing synchronizes the joint efforts of developers and testers to create synergy, thereby streamlining the communication to increase the effectiveness of unit testing.
Make Testing an Inbuilt Process.
Continuous testing should be incorporated since the inception of the project, as testing is surely not an afterthought anymore. It needs to be integrated well with the overall business objectives and organizational goals.
The efforts of QA teams should be aligned with the team of business analysts coherently. The relationship between these two plays a pivotal role in the overall success of software development.
While hosting the scrum meetings, try to make user stories unambiguous and testable with well-defined acceptance criteria. Make sure to leave no scope for any sort of mistakes.
If you are building test scenarios, use the latest trends, data, and analytics from the production website. Accumulate details on user activities and journeys through the application.
Focus equally on both functional and non-functional testing. Functional testing takes care of functional requirements and specifications while non-functional testing checks performance, reliability, and security, etc.
Automate the testing mechanisms.
Just like continuous testing, automated testing also aims at getting valuable feedback. It is crucial to execute best practices on test automation. Along with this, the time when you choose manual testing over automation and vice-versa should also be kept in mind.
Both testers and developers share equal responsibility in automation testing. Try to automate the regression tests, security tests, and non-functional performance.
You need to run an automated test from the CI server. Creation of smoke regression packs is equally imperative, you need to run them every time, whenever the application is being updated.
While you are in the developing phase, try to automate new functionalities and stories simultaneously.
Follow the test automation pyramid principle. It is a strategy guide focuses on enhancing automated unit tests, integration and API tests, few automated tests through .
Focus on Implementing Best QA Practices.
Best QA practices have a broad scope. It includes planning the entire procedure for QA automated testing, choosing the right tools, creating a robust testing work environment, integrating QA with other functions, analyzing quality benchmarks, and at last, continuous testing.
Try to define the agile QA testing strategies properly and strive for best QA practices.
Use technical architecture diagrams and application models for effectively implementing the test techniques.
The world of testing is dynamic. It is never stagnant when it comes to the adoption of technological advances. Training and workshops are of utmost importance to align the testers with the latest trends and happenings in the industry.
Quality and testing never come afterward. They need to be embedded in the team from the very start. It goes hand in hand along with the development process.
Automated Deployment.
Each and every software development team must follow a fully automated deployment process. Through this, the chances of errors at the time of deployment decrease considerably. It speeds up the entire process and developers, in turn, can release more frequently in no time.
If you need to realize the most out of continuous testing, the approach needs to be automated, streamlined, and well sorted primarily. All the manual work should be timely automated, whenever possible.
Use visualization for scalability of automated testing for availing faster feedbacks.
The test environment should be standardized, so deployment can take place smoothly. Even if the environment alters, standardization can give consistent and reliable results.
Don't wait for the DevOps team to take actions for the deployment of releases in the testing environment. Rather make this process fully automated.
(Also read Top DevOps trends you shouldn't miss in 2019)
Continuous testing certainly delivers high-quality and high-end testing service. It is one of the crucial testing practices, which needs to be taken care of and should be executed tactfully. Still, have questions on continuous testing and agile, we are just a click away.