B2B research and review firm identifies Zymr as a market leader among elite group of organizations
San Jose, CA, April 3, 2017
Silicon Valley based full-stack cloud software engineering firm, Zymr Inc., has been named a market leader in the cloud consulting space by Clutch. Clutch is an independent B2B research firm that uses a proprietary, and rigorous, research methodology to evaluate service providers in the technology and marketing industries around the globe. Based on over a dozen qualitative and quantitative criteria, Clutch plots firms on a matrix with quadrants that include companies that are Proven, Emerging, Niche or Market Leaders. Zymr made its way to the Market Leaders quadrant based on Clutch's analysis, and most importantly, feedback from its clients.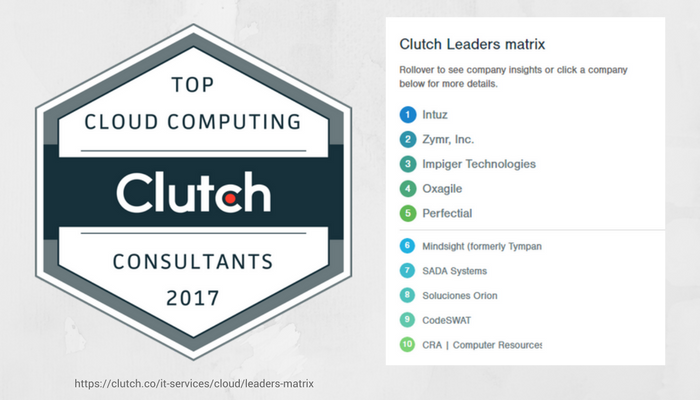 Alex Miller, Senior Analyst and Cloud Research Lead at Clutch, commented on Zymr's performance. "The clients I've spoken with have given Zymr's team impressive feedback. I consistently received comments regarding the team's technical strengths and ability to deliver beyond expectations. Given this feedback, I'm not surprised to see Zymr rise so quickly in the Cloud Consultants leader's matrix."
Zymr's clients pointed to its bench strength, agile development processes, and its ability to listen and understand their often complex needs. As one client, VP of engineering for an application control solution, said: "Zymr has experience in terms of front-end development, and they have access to any skill level. We were able to pick and choose our resources. Zymr's biggest strength is its leaders. The top-level people are knowledgeable and experienced."
Another client, the former Chief Strategy Officer of an impact management platform, said: "I was impressed by their professionalism. They are a very professional design and delivery team. Second, their bench strength is significantly higher, which is very important for companies that work with a broad range of technology."
Since its inception in 2012, Zymr has developed over 50 cutting-edge software products for genre-defining technology startups and Fortune 500 companies. "We're proud of what we do, and deeply gratified by our clients' feedback and the recognition we've received from Clutch," said Ashok Desai, Chief Business Office at Zymr. "To learn more about what Zymr has to offer, and how our customers rate our work, we invite you to visit our Clutch profile."
About Zymr
Zymr, Inc. is a full-stack cloud software development services company headquartered in Silicon Valley. Integrating state-of-the-art software paradigms, an agile development culture, and global delivery centers, Zymr works with some of the most demanding venture-funded startups and mid-to-large enterprises, to render their cloud-enabled products and services. For more information about Zymr, please visit www.zymr.com  or write to us at press@zymr.com.
About Clutch.co
Clutch is a Washington, D.C. based analyst firm that identifies leading software and professional services firms globally through a process that melds traditional B2B research and consumer reviews. They help start-ups, mid-market, and large enterprises find partners that meet their needs, whether for a one-off project or a long-term relationship.